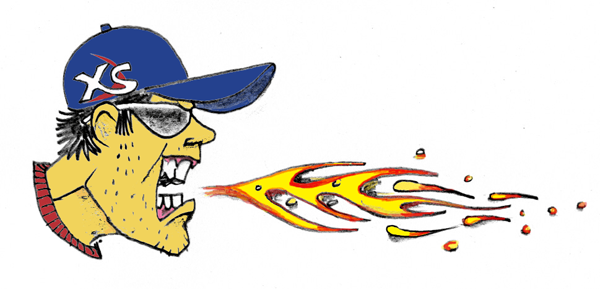 THE BLOWHARD SPEAKS AGAIN!  – All emails received about the XS Blowhard's rant on Saturday, about the umpires mistake calling a penalty on Artemis during the start of Race 4, agree with the Blowhard! The umpires were wrong! (scroll down to the last post on Saturday Aug 10th to view the post)
So the XS Blowhard has more questions. Why didn't Artemis protest? Do they have the right to submit a protest or redress. If so, why didn't they? The language in the AC racing rules under 62.1 suggest they can. Here is the link to the AC rules: 
www.cupinfo.com/downloads/ac34-rrsac-1p19-080513.pdf
62 REDRESS
62.1  A request for redress or a Jury's decision to consider redress shall be based on a claim or possibility that a yacht's score in a race or series has, through no fault of her own, been made significantly worse by

(a)  an improper action or omission of the race committee,
Calling the wrong boat at fault suggests the RC made an 'improper action.' So if they have the right for a redress, it's very possible that Artemis could have won a jury protest and had a re-match with Luna Rossa. With all they went through, why wouldn't they do everything they could do to keep sailing and racing?
Also, how can this happen in such an important 'make or break' race, where one yacht would be completely eliminated from the AC? Why didn't the race committee, after reviewing the incident, re-schedule a new race in the name of fairness and with the consent of the other teams. I'm sure Luna Rossa would not have objected after seeing the replay and virtual eye.
And there are even more questions about the race committee's actions after the incident (read below). If the RC made a mistake would they admit it?  We hope so.
Below are two emails that best describe the consensus of sailors who want to know how and why, in the highest profile racing event in sailing, a mistake like this can happen. And statements from a Sailing Anarchy post (posted below) bring up even more questions, if they are true.
So check out the emails below.  What do you really think happened? Why did Artemis not file a Redress? Can they file a Redress? Do you think the RC and the umpires were wrong? Send us your comments to [email protected].
Hello Blowhard,
I fully agree with you and cannot see how the judges came up with that call. Luna Rossa on Starboard kept clear of Artemis, the leeward boat, and tacked onto port. Artemis followed them around and completed a tack onto port.
Luna Rossa began to luff up and Artemis responded as windward boat without delay. Artemis even declared they had their helm at full lock in their efforts to avoid. Luna Rossa, instead of just luffing head to wind continued onto Starboard Tack. Artemis was not required to begin to keep clear of a starboard tack boat until the tacking boat has completed its tack.
The tacking boat also cannot do it so close that the port tack boat has to begin altering course until the tacking boat completes its tack. Two things, a) Artemis was already altering course to avoid a leeward boat. They were at their limit of doing this already with their helm completely locked over. 
Luna Rossa could be penalized here for luffing too fast. b) Luna Rossa tacked with no room available for Artemis to avoid them ( which they had prematurely commenced due to the luff). Luna Rossa should be penalized again for this. This is not a case of "when two boats are tacking and collide, the one on the others port side is disqualified". Artemis was trying to avoid Luna Rossa who had no rights after a) Luffing to fast and b) tacking too close to be avoided.
This is a crying shame to our sport. I know, under normal judging conditions, this could be a tough call. These judges are the pros of our sport with the benefit of electrical replays and digital tracking to help them determine the incident.
I want to hear a detailed explanation from them on their decision process to know what we are missing. The price tag on this call is too big to be wrong, I feel, if they cannot justify their thinking there should be a mechanism to overturn the decision and re run the race. After all Artemis has been through it is a necessary call!!
Philip Thompson
Former 2 x America's Cup campaign skipper.
Hi Guys … I could not agree more with your commentary regarding penalty infringement … Judges got it extremely wrong! 
Here's the lowdown of yesterday's penalty debacle.. This is what one SA poster writes about what they observed and seems to be right on the money. Just a pity it had to end like that, when the other outcome could have been what the team really deserved.

"From the start of race 4 – here is the distressing truth:
The penalty was a joke – this is the factual evidence – I was on the water listening to the radios and saw what happened:
1. Whether Artemis were at fault is dubious at best
2. The umpires penalised Artemis 25 s before the start
3. It was supposed to be a VMG penalty
4. The umpire in the booth was not accustomed with the buttons so stuffed up on pressing the buttons to indicate a VMG penalty – Umpire Mike Martin who would normally press the buttons was AWOL (apparently with the band "red hot chilli peppers " in a rib on the water)
5. The woman replacing Mike Martin in the booth stuffed up by not knowing the button sequence – after pressing the SWE penalty button you then have to press either the VMG button (as in this case) or the boat on boat bot penalty button)
6. In a panic she pressed the SWE penalty button and then realised that nothing had happened so instead of pressing the VMG button pressed the SWE button again which completely cleared the penalty.
7. It was a total stuff up – the penalty was supposed to be a VMG penalty which would have penalised Artemis by approx. 2 boat lengths on the first reach – they started 4 boat lengths ahead of LR so should have still been leading at mark 1
8. The penalty was so late it was a joke and it was eventually signalled as a boat on boat penalty (due to it being signalled so late after the start), instead of a VMG penalty
9, Artemis were completely screwed by the umpires – and that's the way it is
10. When the umpires realised they had stuffed up WHY didn't they just abandon the race at mark 1 and do a restart ??
11. Artemis could have protested the race afterwards but the honour of guys like Percy and TT decided that it just wasn't worth it.
I find this most distressing … knowing what this team has gone through to just get on the water – to have this amount of flagrant disrespect by the judges and the whole race committee is a disgrace.  They are protecting their own rear ends and should have owned up.  Nowhere can this be found in any official commentary.
The subsequent penalties for out of bounds were also so very marginal … in race 1 Luna Rossa also appeared to have crossed the boundary line and yet no penalty. Artemis penalized for half a hull?  You are kidding me.
Anyway what is done is done.
My utmost admiration and respect to Iain Percy and Nathan Outteridge for the outstanding fashion in which they have handled themselves over the past three months.
Mark