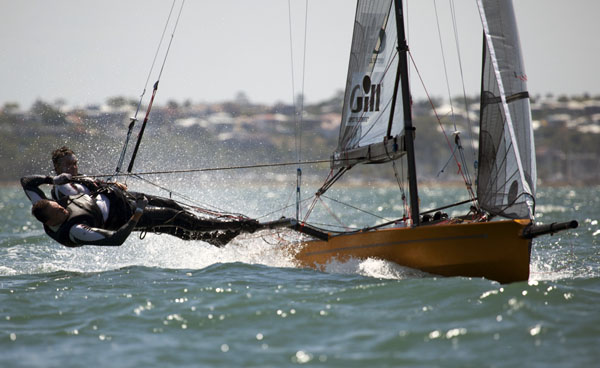 I14 AUSTRALIAN CHAMPIONSHIPS – The winning streak continues for Devine and Furlong Close racing and near perfect conditions were on the cards today for the fourth and fifth races of the International 14 Australian Championships sailed on Queensland's Waterloo Bay out of RQYS.
Race one today saw challengers Mark Krstic and Andrew Wilson lead around the top mark with a strong tactical first windward. However it wasn't meant to be for Krstic and Wilson when a gybe went wrong allowing for regatta leader's Devine and Furlong to swiftly overtake on the next windward.
"We went for a gybe and I got caught up on my shock cord and that was that, we had a comfortable lead coming around that windward mark" said Wilson.
"We are still chasing the gold boat (Devine and Furlong), We feel like our boat speed is good, but he is just good at what he does, he's fit and going 100% all the time". Krstic and Wilson sit in second place behind the regatta leaders by six points.
With Krstic and Wilson's mistake turning fatal, Devine had no other challengers by the second windward, taking the race win.
The second race proved more difficult for the fleet with the moderate 15- 20knot southerly turning lighter around the 12knot mark, testing the boat speeds of the fleet.
Nonetheless this was no challenge for Devine and Furlong, who led from a clean mid line start and rounded the first top mark comfortably in first.
" We had good, close racing today, we changed our settings completely in the second race, we stood the mast up a lot more, more vang, it felt like a completely different boat" remarked Devine after racing.
Still working out the perfect settings for their new stiffer mast, the Western Australian pair felt more confortable in the lighter breeze which played a major role in the second race.
Devine finished off with… "We found some great numbers and away we went, the boat felt the best we have felt all week".
Top five race results overall;
1st – AUS 661 Del Boca Vista, Brad Devine and Ian Furlong
2nd – AUS 656 To Late to Stop Now, Mark Krstic and Andrew Wilson
3rd – AUS 659 CST Composities, Stuart Sloss and Ben Lawrie
4th – AUS 80 Zero, Tony Carr and Scott Cole
5th – AUS 666 El Diablo, David Hayter and Trent Neighbour