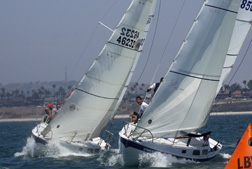 LOCAL KNOWLEDGE – Long Beach, Calif.—Felix Basadre and Rick Sottile of Seal Beach Yacht Club won the 2013 Cal 25 Regional Championship Sunday going right up to the wire, winning the last race on the last day to win the regatta on a tiebreaker.
In this two-day regatta sponsored by Cal 25 Fleet Five and hosted by Long Beach Yacht Club, five southern California skippers and crews dealt with shifty breeze of anywhere between 8 and 17 knots. From the top of the course to the bottom the wind direction often varied as much as 15 degrees, making tactical decisions critical in this closely matched fleet.
"We had to work hard this weekend but we beat the best in the fleet," Basadre said referring to two-time Cal 25 Nationals winners Art and Scott Melendres (LBYC) who finished second in the regatta on a tiebreaker after Basadre and Sottile won the last race Sunday.
"Saturday was interesting with such a wide wind range," said Basadre. "We started the day using our light #1 and by the last race we had switched to our #2. We also had a different person on bow this weekend and it took a couple of races for the team to gel. Today we were all together, and the last two races we were spot on."
Second place is not a position that Art and Scott Melendres are used to finishing in, dominating not only LBYC's summer Wet Wednesday twilight races but local, regional and national Cal 25 class regattas as well. But Art was gracious in complimenting his fellow local class member on his victory.
"I really have to hand it to Felix," said Art. "He did what he had to do today. It was their great boat speed and the great effort from his team that won this regatta.
"There was great racing this weekend," Art said. "Whenever you have a two-day regatta with five boats that comes down to two tiebreakers deciding the top four positions, that's close racing."
Third place in the regatta went to Dennis Diem (LBYC) and his team who were tied at theend of the regatta with Donald Reiman (Alamitos Bay Yacht Club). Reiman had to settle for fourth after the tiebreaker was applied.
Rounding out the order of finish in fifth place was Don Albrecht (South Shore Yacht Club) and his team from Newport Beach.
At the trophy presentation Basadre commented, "You know, you really have a since of accomplishment when you beat these guys [Art and Scott Melendres]. To beat them you have to be perfect. And today, we were."
Final Results
1. Felix Basadre/Rick Sottile, Seal Beach YC, Tiburon, 2-2-1-1-1, 7 points
2. Art & Scott Melendres, Long Beach YC, One Time, 1-1-1-2-2, 7
3. Dennis Diem, LBYC, The Iguana, 4-4-2-3-4, 17
4. Donald Reiman, Alamitos Bay YC, Rhyme-N-Reason, 3-3-4-4-3, 17
5. Don Albrecht, South Shore YC, Valkyrie, 3-5-5-5-5
Complete results are available at www.lbyc.org .