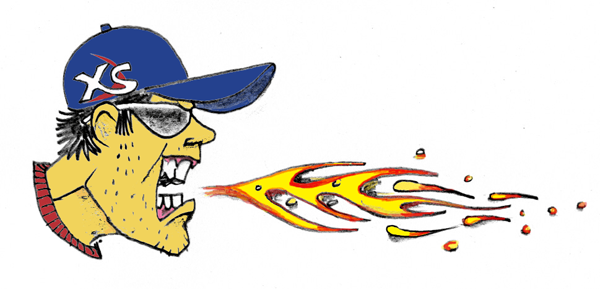 XS BLOWHARD RANT – Regardless of the outcome of this year's America's Cup, we tip our hats to the skippers of ORACLE and Team NZ. Jimmy's 'never give up' attitude and Dean's focus on what his team has to do, both under tremendous pressure to perform for the public and sponsors, they continue to handle the pressure with class, leadership and sportsmanship.
Although, we have disagreed with some of the tactics in the first 10 races for both teams, these two teams are ushering in a new era of sailboat racing at 40 knots that skippers and crew have never seen before. The team work on these boats have to be perfect. The tactics are even more critical when two boats are beating at 30 knots (60 knot collision speed) or jibing at 42 knots (84 knot collision speed). You make a mistake and lives and property are at stake.  These two teams have given sailors and the public the most exciting, close fought sailing in history.
The XS BLOWHARD will still suggest and complain when mistakes are made by both teams, but regardless the outcome, the BLOWHARD has the utmost respect for the skippers and crew of both teams who are sailing an incredible series.
So, instead of Jimmy and Dean and their teams getting an earful of what-ifs and racing tactics criticism after this weekend (and there are plenty of them), The XS BLOWHARD wants to applaud and thank both the USA and New Zealand teams for a job masterfully done and making sailing a new sport of the future. The technology is already filtering down to the masses… sailing will never be the same.
We wish both of the teams good luck in this series and may the best team win. And, as the XS BLOWHARD (born in California) is bias and would like to see the Cup stay in the USA, if the Cup is to be lost to another country, the XS BLOWHARD can not think of another country who will honor the Cup as well or better than New Zealand.
See you on Tuesday when the racing and battle continues!
Agree or disagree with the XS BLOWHARD? Email us your comments to [email protected]