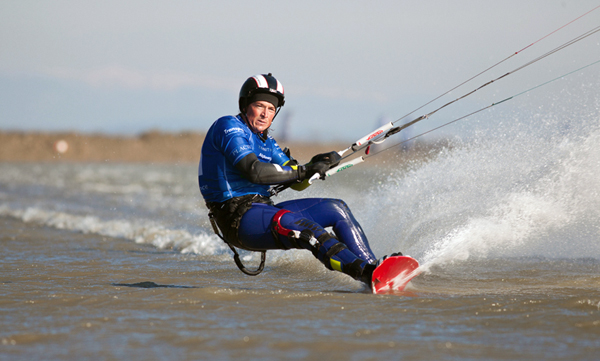 SPEED SAILING – "Salt and Speed" is up and running! – The latest bid for the outright World Speed Sailing record has been launched. Since Wednesday the French and American kiteboarders, Alex Caizergues and Rob Douglas, have been performing a series of 500-metre runs in the "Volkswagen Transporter Arena", a surf spot situated at the heart of the Salins du Midi in France's Camargue.
Rob Douglas, the current holder of the World kitesurf speed record (55.65 knots achieved in 2010), second of all the categories behind Paul Larsen's Sailrocket 2, has so far pulled off a timed sprint of 53.40. Alex Caizergues, the first man to exceed 100km/hr (54.10 knots in 2010), has achieved 52.45 knots.
This is excellent news because it means that the Franco-American duo, among the top speed kitesurfers on the planet, have over recent days validated the brand new spot in Salin-de-Giraud. Along this 800-metre long trench, spanning some 10 metres in width and perfectly angled in relation to the north-westly to northerly Mistral, the riders are able to go very, very fast. "We weren't in optimum conditions last Wednesday, Thursday, Friday or Sunday," explains Alex Caizergues, the project's initiator together with his father, Philippe, who's also a speed kitesurfing buff. "The water was a little too high and the wind angle wasn't entirely favourable for propelling our machines along at speed". Added to that it was cold and rain coloured proceedings on Wednesday making conditions particularly extreme. "It was like being on the moon" smiles Christophe Simian, an enlightened observer from the venerable WSSRC, the world speed record regulator. It was reminiscent of the ends of the earth given how wild and hostile the environment is for man. The strapping Rob Douglas didn't look too impressed as he alternated between solo power runs and rides, clearing his mind as he says and doubtless running through the different scenarios, Morgan, his younger brother keeping an eye out!
"The wind is stronger than in Namibia, where we've been performing over recent years. It can easily pick up to 50 knots. I am impressed by the site. I don't think it'll be a problem to beat the outright world kitesurfing record, which I currently hold. As regards the outright World Speed Sailing record, recently set by Sailrocket, that'll take time but we'll get there. That's all part and parcel of the history behind these records and that's why it's so rich".
In any case, the numerous "Salt and Speed" volunteers, perched along the banks of the "Volkswagen Transporter Arena" are ready for anything to help Alex and Rob reach for the stars in the speed world.
Alert: Rob Douglas and Alex Caizergues will be in action on Saturday. A strong Mistral is expected at the site…
Reminder: the first act of "Salt and Speed" will continue until 14 December 2012.