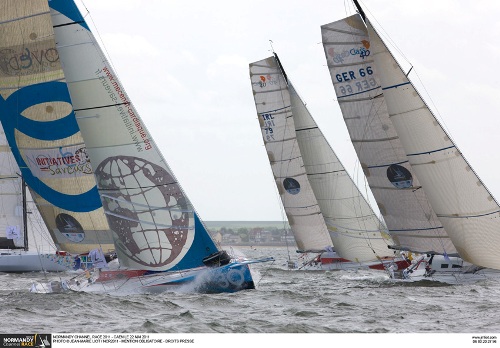 CLASS 40 – Sixteen boats take off Sunday at 17:00 Ouistreham the start of the third edition of the Normandy Channel Race. Boats of this competition Norman, departure and arrival of the city of Caen (1000000) will be led by two sailors and are Class 40. The entire fleet is now moored Basin St. Peter teams with the port of Caen – Ouistreham and service of lighthouses and beacons.
Launched in 2004 by a handful of enthusiasts whose circuit-browser and journalist Patrice Carpentier, skipper Michel Mirabel, Christian Bourroulec, head of construction at Sainte-Marine Structures or Pascal Jamet, the Class 40 was born from the desire to allow any browser satisfy his thirst wide open without necessarily having to go through the purchase of an expensive boat and purely dedicated to the competition. After several months of reflection, many round tables of a rule of construction and design, the famous gauge, the Class 40 was born.
12.19 meters long, 4.50 meters wide at maximum, a draft of three meters, a vertical clearance of 19 meters, a displacement of 4500 kg sail area up to a maximum of 115m2, a keel and a mast fixed here for the main characteristics of Class 40 which leaves some scope for individual architects. Because very soon this format boats knows a great success in France but also abroad, the Class 40 is the perfect compromise between a Mini and a 6.50 60 foot monohull and to navigate safely through the atlantic between three buoys and even around the world. Masters of design sailboats lean so quickly on this case, the Class 40 is not a monotype, but which later became a prototype for a few yards of a sailing series. So the site launches Structures Pogo 40 Pogo 40 S2 now plans to Jean-Marie Finot, Jumbo Jumbo Composites 40, the Guillaume Verdier Tyker 40, Akilaria based in Tunisia, and now Akilaria 40 RC 2 designed by Marc Lombard, JPS Composites Mach 40, Sam Manuard design, the latest evolution of Class 40.   
At the start of the Normandy Channel Race, Class 40 will be found sixteen complying strictly with the gauge but with different abilities according gaits, different finishes … to the delight of connoisseurs and obviously browsers that are often involved in the design of their sailboat … The Mach 40 "Mare" of the German Jorg Riechers is a swift plan that showed a lot of quality from the beginning of the season especially during the Solidaire du Chocolat, victory, Pogo S2 Halvard Mabire, victory over Transat Quebec Saint-Malo, and Stéphane Le Diraison are formidable. A monitor also Akilaria RC 2 British Ned Collier and Marc Lepesqueux.
Another boat, much older this time, will be honored during the Normandy Channel Race as the three-masted, Belem, built in 1896, operated by the Foundation Belem and his patron history, the Caisses d'Epargne, Class will visit 40 this weekend, he will present tomorrow at 9:00 in the harbor of Caen.