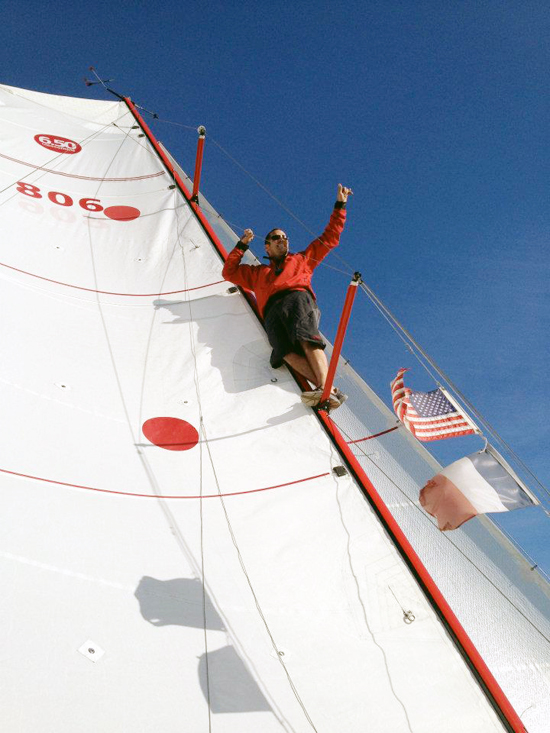 FOLLOWING JEROME – JUST IN FROM THE PACIFIC – Here at XS we are big fans of Open Sailing USA and their promotion of the Mini Transat 21 foot boats.  Sailing the Pogo, here is the latest report from Jerome sailing the smallest boat in the fleet and leading in the 'Fast and Fun' division:
"Had a great ride last night until 4am. It was really fun – I just had the medium kite up with one reef in the main and was doing 12-13 knots of boat speed. I was really enjoying it and then the wind just died and I had to change sails and just drift for a while. I'm still have issues downloading weather information but am trying to work south as I feel I am too far north.
I've had some squalls come through and they are a total blast – as long as I have one reef in the main and code 5! Any more sail area than that and things get interesting! I don't feel like I've even tapped into the potential of the boat as I haven't seen more than 25 knots of wind and it hasn't come aft enough yet. Weather is still overcast and I haven't seen the sun since the start.
I've been wearing the new Hydrophobe gear from Gill – it really keeps me dry and warm. Plus I can sleep in it and then get up in the night and go on deck without having to change – a real time saver! I did have one close call while using the bathroom, i.e. my bucket, a strong puff knocked the boat down and it took every bit of luck and skill not so lose the contents of the bucket inside the boat!!
It took a few days but now I'm eating warm food. All the fresh food and fruit is gone. The light air is more stressful so I didn't get much sleep this morning. I'm managing the power on the boat without any problems. I've been using the fuel cell a lot since it has been overcast so the solar panel isn't giving me much. The autopilot is more efficient than I thought it would be, balancing the boat as much as possible really makes a difference.
I've lost count of how many times the boat has rounded up, but other than that the boat is doing fine. There was one leak over my bunk but I took care of it. The new gasket I installed on NKE autopilot arm that comes through the transom directly from the rudder is a huge improvement and the boat is very dry inside. Other than that there is nothing to do, it's very lonely, and a little boring at times! Looking forward to more breeze and really seeing what the Pogo can do!"