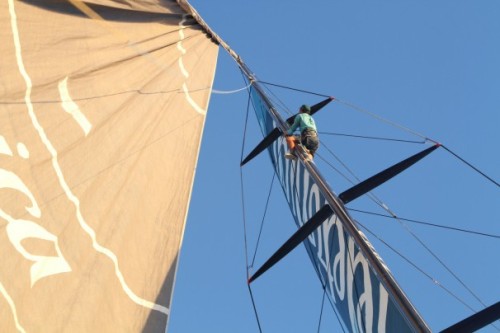 VOLVO OCEAN RACING – PUMA have extended their lead overnight as the teams ticked off the first 1000 nautical miles of Leg 6 in "luxurious" conditions in the South Atlantic where a fraction of a mile is being counted as a big loss or gain.
The distance between the front and the back of the pack has extended as the fleet tacked to point at Recife on Brazil's northeast corner, with Groupama sailing team dropping to more than 80 nautical miles behind the leaders.
At 0400 UTC PUMA Ocean Racing powered by BERG held a 20.3 nautical mile lead over CAMPER with Emirates Team New Zealand, followed by Team Telefónica in third and Abu Dhabi Ocean Racing in fourth, trailing by 42.6 nm.
PUMA Media Crew Member Amory Ross said conditions were ideal and crew morale was at an all time high as the team grew content with their middle-road gamble that paid big.
"We're happy with our windward position on CAMPER and we've cashed in some of that leverage over the last 24 hours to foot down over their bow, fully expecting a geographic lift to take us clear of Brazil and towards the northeast before we hit the beach,'' he said on Friday morning.
"The boat is going well, we're adjusting to the squally conditions that demand everyone be ready to run at all times and most importantly we're having fun. Life is definitely fun at the front of the pack!"  MORE STORY