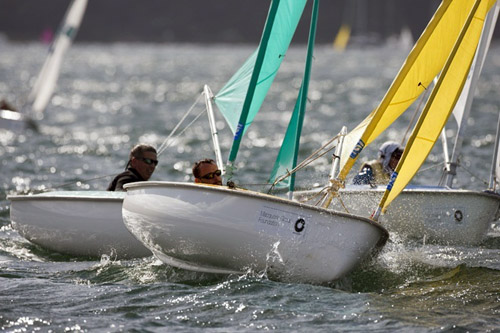 RACING – Greg Hyde, a Clontarf, NSW sailor who represented Australia at the 1984 Olympics in the windsurfer class, has an unassailable lead in the Liberty single-person class going into the final day of the Macquarie 2012 Access World Championships being hosted by Middle Harbour Yacht Club on Sydney Harbour today.
The well-known Sydney sailor was struck by encephalitis 14 years ago, then a stroke in 2008, resulting in partial paralysis, short-term memory loss, and speech difficulties. However, Hyde, who is also a former 16ft skiff champion, is still a power to be reckoned with on the race track.
Winning Race 8 this afternoon has given 'Hydey' a 12 point lead over nearest rival, Chris Cook (AUS) with only two races remaining. Gerard Eychenne (FRA) is in third place, 25 points off the lead. However, when a second race drop comes into play after nine races, the scores may close up some more.
In the Access 303 single-person class, Stephen Churm (AUS) was hell-bent on getting back into first place on the scoreboard. "I'll have to beat Michael (Leydon) in all three or four races that are left," he said.
Unfortunately, things did not pan out Churm's way, as leader, Michael Leydon (ACT), an able-bodied sailor and former Paralympic coach, fired off another win in Race 8, adding to the other four in his tally.
Leydon is now seven points ahead of Churm with two races to go, so it is a big ask for the latter to overcome Leydon for the win. Rod Viney from Tasmania (able-bodied) is third, eight points behind Churm.
The 57 year-old Churm will find out on Monday whether he is headed to the London Paralympic Games in the Sonar three-crew keelboat. He said competing in the Access 303 this week is certainly helping towards his campaign.
"We're going to the Delta Lloyd Regatta (for Olympic and Paralympic classes) in May, and sailing on my own here helps hone my tactical skills. I do the bow on the Sonar, and as such, I call the wind, pressure and layline, so it's all relative," said Churm, who won his first for' hand trophy aboard a Heron in 1966.
Churm went into racing yesterday in the lead. "I was heading out to the race area and copped a boat full of water, and finished fifth. Then I came back with a second in Race 6, but Michael had a better day."
The Sydney sailor said Tuesday and Wednesday's harsh conditions "were fantastic exercises in bailing. I haven't bailed as much since I was seven and sailing a Manly Junior!
"I've had great fun here though and I've enjoyed the racing," he said.
Meanwhile, 16 year-old Angus MacGregor from Queensland is in a strong position to retain his Access 2.3 single-person title after adding a second and a win to his tally this afternoon.
Angus is just four points ahead of his equally talented older brother Duncan (22), who notched up a win and a third place to keep his brother honest. Gerard Meli (AUS) remains third placed, 16 points off the lead.
Michael Cull (AUS), the Access Liberty gold medallist from the Liberty Asia Pacific Championship, was thrilled when south-westerly winds dropped to 8-12 knots this afternoon.
"I missed both races on Tuesday, because I didn't want to break gear; so many people did, so that set me back," the Wembley, Perth, sailor said from ninth place overall this evening.
Ironically, it was a t-boning incident during sailing that put the 73 year-old in a wheelchair. "I was 36 at the time and sailing an Endeavour 26," he said.
"These kinds of accidents change your life so much, but luckily mates made me get back to sailing again," he said.
"Sailing is one of those things you can still do successfully when you're disabled. I also played wheelchair basketball when I was younger and I've travelled a lot with these sports.
"It's great at Royal Perth Yacht Club, the Sailability program is growing quickly since we got great facilities and the competition has grown. There's a lot more people at the Access Worlds here than I expected, so the competition has been tougher," the spritely sailor admitted.
Racing concludes tomorrow, with final races to be sailed from 10.00am off Middle Harbour Yacht Club.
For full results, photos and more, go to the official website: www.2012accessworlds.mhyc.com.au <http://www.2012accessworlds.mhyc.com.au>