VENDEE GLOBE UPDATE – Alex Thomson, Hugo Boss, third place in the 2012-2013 Vendée Globe – Alex Thomson crossed the Vendée Globe finish line at 07 hours 25 minutes 43 seconds (GMT) after 80 days 19 hours 23 minutes 43 seconds at sea. He finishes 2 days 18 hours and 7 minutes behind François Gabart.
His final race time is 80 days 19 hours 25 minutes 43 seconds. His average speed around the course was 12.6 knots and he actually covered 28, 022 miles at the average speed of 14.4 knots. Note: the race's theoretical distance was 24,393.41 miles.
After Ellen MacArthur's second place in 2000 and Mike Golding's third in 2005, Alex Thomson becomes the third British skipper ever to finish on the podium of the Vendee Globe. But his time surpasses that of the Golding's previous British solo race record from 2005 by 7 days 19 hours 52 minutes. After winner Francois Gabart and second placed Armel Le Cleac'h, Thomson has also smashed the previous race record of 84 days 03 hours 09 minutes set by Michel Desjoyeaux in 2009.
What does Alex have to say after finishing? 
"I've sailed out of the channel three times but only once back in. And let me tell you, the way back is absolutely great!!!
A lot of this race is about preparation. It took me three months to complete this race but it took my team three years to make it possible so I want to thank them all very much.
Leaving a little boy behind is very difficult, my son Oscar has grown every day while I was away and his speech has improved. My wife has kept me in touch with Oscar throughout the race. I feel a little guilty because I had fun at sea while she stayed home.
To not have any power on board is hard. We had taken enough fuel for half of the race and we were relying on hydrogenerators for the rest. The first couple of days after the incident were so hard, but I had no choice. I'm glad I did what I did.
I remember Denis Horeau asking me if a race time of 77 days was realistic. I told him it was ridiculous, but he was right. Our IMOCA 60 boats are fantastic. I would have loved to do it three days faster, but hopefully next time I will.
My wife will not want to hear about the 2016 edition of the Vendée Globe, at least not right now. It was my third Vendée Globe, this race has been part of my life for 10 years now, it's in my blood. Right now, I can't imagine not doing the 2016 Vendée Globe.
The most important thing for me in this Vendée Globe was to finish the race. Standing on the podium is amazing, though and really, the race time is irrelevant.
People have said it was noble to stay close to JP when he had problems, but to me, it was just the normal thing to do, it shows the respect we all have for each other. I've been rescued by Mike Golding, I know what it feels like."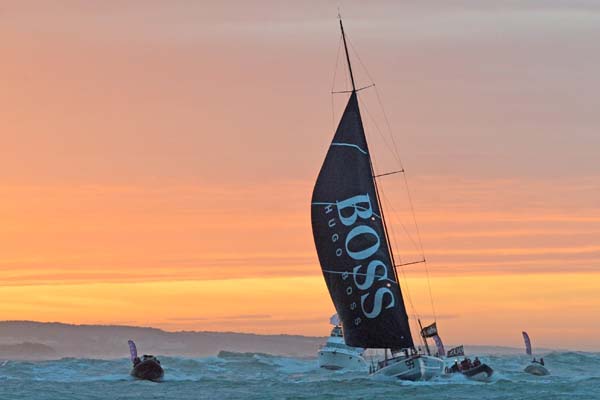 For more photos of Alex and the Boss finishing please go to www.christophefavreau.com and http://www.sealaunay.com/diary/