Marina operator MDL Marinas has signed a six-year deal to become the official marina sponsor of Ben Ainslie Racing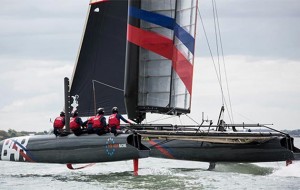 As part of the deal, MDL will provide essential access to the Solent to enable Ben Ainslie Racing (BAR) team training. BAR has also been given access to MDL's network of marinas across the south coast.
The America's Cup World Series it expected to attract up to 500,000 visitors when it comes to the UK in July. The event will also be the first time a British America's Cup team has raced in an official America's Cup event in UK waters since 1851.
Ben Ainslie said of the deal: "It's great to have MDL Marinas on board as our Official UK Marina Partner. As the leading marina operator in the UK and the longest-standing British marina group it was a natural fit. We are looking forward to closely working together on this momentous challenge."
MDL Marinas operations and marketing director Dean Smith said: "We are absolutely delighted to have been selected as the Marina Partner for BAR and to be part of the winning formula to help bring the Cup home. We are a long-standing British company and are proud to be part of this historical moment. We are planning a number of events and opportunities in and around our marinas and will be getting our customers and teams fully involved in the excitement of it all. We will certainly be backing the Ben Ainslie Racing team all the way."
The post MDL Marinas signs six-year sponsorship deal with Ben Ainslie Racing appeared first on YBW.