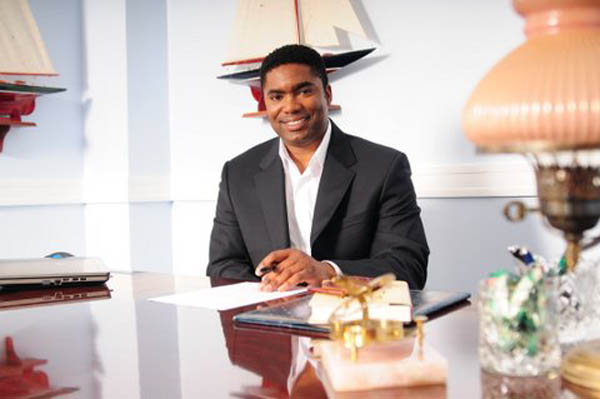 AC NEWS – African Diaspora Maritime's appeal was upheld this week allowing the complaint by ADM to be heard on August 23rd. That brings the score to 2 to 1 in favor of ADM. For those of you who have not heard about Charles Kithcart (pictured above) and his story, check out his affidavit and the AC Protocol below:
So, who is Charles Kithcart and what is his sailing background? Here is his resume as described in his affidavit:
I am a licensed captain with a twenty-plus year maritime career, which has included, among other things, teaching, project management, and ocean research expeditions to develop cutting edge sailing technology.
I received my training in sailing at the Maritime Institute of San Diego, the California Maritime Academy School of Continuing Education, the Seamen's Training Center, and the American Sailing Association Keelboat Course.
Between 1983 and 1987, I served under the Intelligence Officer in the United States Marine Corp.
I also have been active in America's Cup activities since 1990 and gained much of my America's Cup experience under the tutelage of several award-winning yacht captains, including a former America's Cup winner and the St. Petersburg Yacht Club. As such, I have had direct consultation with, training by, and advice from some of the most prominent sailors, designers, builders, and managers associated with the America's Cup.
Between 1990 and 1991, I was a crew member aboard the Shamrock V, a former America's Cup Racer J-Class Yacht.
Between 1991 and 1992, I was the Assistant to the Director of Development for the America3, the 1992 America's Cup winner.
Between 1993 and 1994, during one of the preliminary competitions for the 1995 America's Cup (the 1994 International America's Cup Class Canterbury of New Zealand World Championship), I served as the Project Manager for the "Age of Russia" yacht, which was sponsored by the St. Petersburg Yacht Club. As Project Manager, I learned about the day-to-day business operations of an America's Cup team.
Thereafter, I was commended for my service as Project Manager of the Age of Russia by the Commodore of the St. Petersburg Yacht Club when he bestowed upon me the title of Vice-Commodore.
To catch you up to date about this story:
A New York state judge scheduled an Aug. 23 hearing on an African-American sailing group's bid for a preliminary injunction that, if granted, would delay the September opening of the America's Cup races in San Francisco.
The African Diaspora Maritime Corp. claims in a lawsuit filed in New York in 2011 that the Golden Gate Yacht Club, the host of this year's race, unfairly denied it a chance to compete to be the American defender in the race.
If granted, the preliminary injunction would be in effect until a trial is held on the group's lawsuit, which seeks a ruling requiring the San Francisco-based yacht club to reopen the application process for cup defenders. FOR THE REST OF THE STORY ABOVE CLICK HERE
FOR THE  STORY BY ABC NEWS CLICK HERE
FOR THE STORY FROM ADM'S WEBSITE WITH LEGAL DOCUMENTS CLICK HERE
So what do you think? Please examine all the information and email us your thoughts and opinions to [email protected]