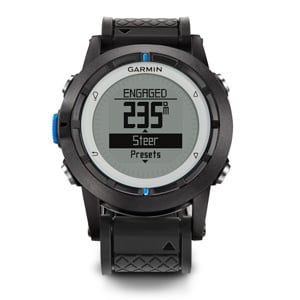 SAILING TOOLS – Quatix – The Only GPS-enabled Marine Navigation Watch
High-sensitivity GPS-enabled marine watch with altimeter, barometer and 3-axis compass
Stream NMEA 2000 data
Special sail racing features
Garmin marine autopilot remote control capabilities
Automatic MOB detection
Designed for avid mariners of all types, from dinghy racers and kayakers to big sail and power boaters, quatix is a high-sensitivity GPS navigator marine watch. It's the only GPS-enabled device that provides an incredible range of marine navigation features including automatic MOB detection, remote control of Garmin equipment, and streaming NMEA 2000® data to a navigating marine watch.
A highly accurate watch, it also includes sailing features never before combined into 1 watch, such as race countdown timer, virtual starting line, tack assist and tidal information. It's also equipped with an automatically calibrating altimeter and barometer, a 3-axis compass, temperature sensor and tide information. Plus, it shares data wirelessly with other compatible Garmin apps.
Specialized Sailing Features
The quatix combines advanced sail racing tools for unparalleled awareness and a competitive edge during a racing competition. quatix can easily set up a virtual starting line between 2 GPS waypoints. It then combines the starting line with the built-in countdown timer to calculate both distance to the line as well as desired speed and burn time available, which enables the vessel to cross the line at maximum speed at the exact starting time. Once the race has begun, the watch then switches to Tack Assist mode and indicates whether the vessel is getting headed or lifted based on the optimal tack angle provided and makes for a more efficient and controlled sailing experience.
For more information CLICK HERE