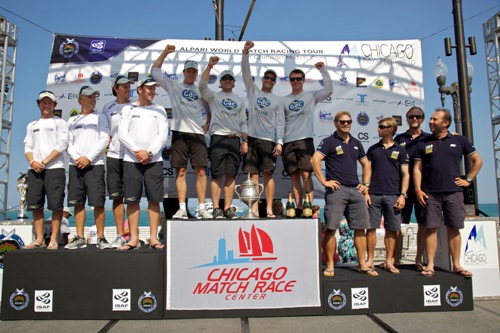 PHOTO: Andy Carter / /AWMRT
MATCH RACING -  Reigning Tour Champion Ian Williams was today crowned the 2012 Chicago Match Cup winner after a 3-0 battle against Australian youngster Jordan Reece, which also closed the gap on Bjorn Hansen at the top of Alpari World Match Racing Tour leaderboard, the Swede having won the day's Petit Final to take third.
Williams (GBR) GAC Pindar went into this inaugural US Tour event desperate for a win, having finished second and third at his previous series events so far this season. Starting strongly despite an enforced crew change due to appendicitis suffered by his tactician and mainsheet trimmer Bill Hardesty, Williams kept true to his tactician's wishes sent from hospital: "Tell Ian nothing fancy! Keep it smooth and fast!"
Williams, said: "It wasn't straightforward out there, the conditions were very difficult with the light air and missing Bill [Hardesty] after he'd done a fantastic job all week was a tough change to make. Garth Ellingham [WAKA Racing] is also great sailor and he did a great job in the Final but obviously it takes a while to gel as a group."
"The first couple of races were pretty dicey and they could have gone either way but I felt that as we improved and the communication was there, we did a much better job of controlling the start and controlling the race.
Jordan Reece (AUS) – Estate Master Sailing Team did well to make the Finals, the 21-year old's first-ever in the Tour, as he kept the pressure on the World Champion in every match of the Finals. The closest he got to victory was in wresting the lead away from Williams on the first run of the second match, rolling over his rival in the light choppy conditions to take the lead into the bottom gate.
But Williams got the favoured right side on the second beat and with just a little more pressure managed to pull ahead of the Australians in the final approach to the second top mark. Despite a rush to challenge to retake the lead as he had on the first run, Williams managed to just stay ahead into the finish to take the win. Reece, said: "Right now we're a bit disappointed but in a few hours I think we'll be happy with a second place finish at our second Tour event. We're a young team and this is a good start, showing that we have the ability to go against these top teams. MORE STORY