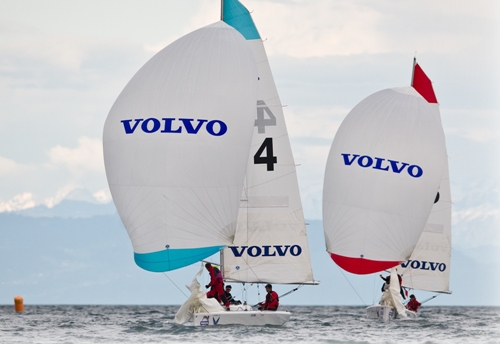 RACE NEWS – Volvo Automobile Switzerland strengthens its commitment to the Swiss sailing and launching the national series, "Volvo Match Race Cup." The new format includes two qualifying races and a Swiss championship and is conducted in collaboration with three leading Swiss and Swiss Sailing yacht clubs.
The official Swiss Championship, the culmination of the series is, by turns presented annually to one of the three clubs. The partner yacht clubs and venues so the Volvo Match Race Cup are: Zurich yacht club, Societe Nautique de Geneve yacht club and Romanshorn. 2012, the title "Swiss Match Race Champion" award from the Yacht Club Romanshorn, the following year by the Société Nautique de Genève (2013) and subsequently by the Zürcher Yacht Club (2014).
Volvo Match Race Cup official match racing established Swiss masters. The winners of each qualifying event will qualify for the finals and the Swiss Match Racing Championship. There, they run against the top-ranked Swiss match race sailors in accordance with the current world rankings. The winner of this year conducted Volvo Match Race Cup is awarded the official title of Swiss Sailing "Swiss Match Racing Champion." The qualifying events and the national championship will be carried out as part of a Grade 3 event in accordance with the provisions of Swiss Sailing Federation ISAF and the international sailing. This allows the Swiss sailors in addition to the sailing experience and valuable points towards the ISAF world rankings to collect.
Promote the most talented young Swiss sailors. Participants duel on blu26 identical boats. Each partner of the organizing clubs are provided two boats for the entire contract duration. The boats will be stationed in the three participating clubs and during the current calendar year, including the official Volvo Match Race Cup events also used for racing and training purposes. With this format, talented sailors throughout Switzerland receive a unique opportunity to prove themselves with top quality material and highly competitive events.