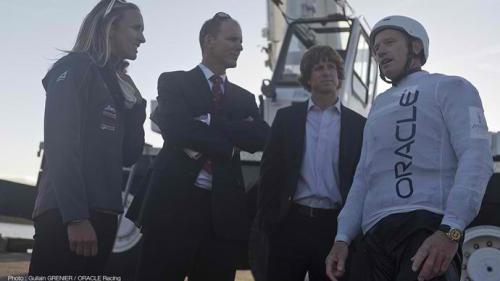 AMERICAS CUP – ORACLE Racing welcomed to its base today Bill Hardesty and Anna Tunnicliffe, US Sailing's Yachtsman and Yachtswoman of the Year for their outstanding accomplishments in 2011.
Past winner Stan Honey, the ACEA Director of Technology who won the award for 2010, was on hand to honor the recipients at a luncheon in San Francisco.
Both skippers were joined by their crews for the base tour that lasted about 90 minutes. Afterwards they met with team skipper Jimmy Spithill, who'd just returned from the day's practice session.
"It's an amazing facility. There's everything here you could need. It's phenomenal to see it all," said Tunnicliffe, who is the world's top-ranked female match racer and is aiming to represent the U.S. in women's match racing at the London Olympics this summer.
"Match racing multihulls is a slightly different game than the match racing we do, but it's spectacular," Tunnicliffe said. "Having watched the ACWS so far it seems your interactions – you have to think that much more precise in a multihull. It's exciting and I'm looking forward to seeing the America's Cup."
Hardesty won the 81-boat Etchells Worlds last year and is tactician for skipper Ian Williams, the top-ranked match racing team in the world. Hardesty echoed Tunnicliffe in his observations of the ORACLE Racing base.
"We saw a pretty impressive boatbuilding operation," said Hardesty. "There was the secret area we couldn't get into, but the magnitude of the operation, the cleanliness and the organization is impressive."
When asked about the America's Cup moving to multihulls, Hardesty voiced support.
"I've always been a believer in advancements, and this is a good step," Hardesty said. "It's probably a necessary experiment. The sport needs a bit of a kick start.
"People say you can't race multihulls, but they've been doing it forever in the C Class catamarans. And I watched the ACWS in San Diego, and it's all the same stuff," Hardesty continued. "It's a little bit different turning radius and acceleration speeds, but the principles are all the same. The thing I find interesting is that the sailors aren't necessarily traditional multihull sailors. They're all good sailors, they've just learned to sail multihulls better."