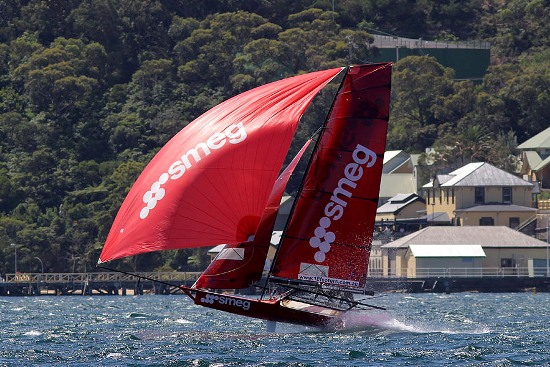 18ft SKIFFS – Sunday's final race of the 2012-2013 Australian 18ft Skiff Championship should produce a great finale to the series with three teams separated by only two points and the possibility of the final result being decided on a count back.
Defending champion Thurlow Fisher Lawyers (Michael Coxon, Trent Barnabas, Dave O'Connor) is on 5 points and holds a one point lead over Gotta Love It 7 (Seve Jarvin, Scott Babbage, Peter Harris), but also holds the advantage of two wins so far to none by Gotta Love It 7.
Smeg (Nick Press, Dan Phillips, Dave Ewings), after two wins last weekend, is now just two points behind Thurlow Fisher Lawyers, in third place.
To complicate the positions, Smeg also has two wins so far in the championship, which could be critical in any count back situation.
The race should not only be a great finish to the championship, but it will also be a great pointer to the chances of these teams as we get closer to the Giltinan Championship, which begins on Sydney Harbour in two weeks.
A fleet of 33 skiffs have entered for the Giltinan 2013.
The Australian 18 Footers League will soon be announcing the extensive coverage which will be available throughout the Giltinan.
The club's usual spectator ferry will follow this Sunday's final race in the Nationals as well as all heats of the Giltinan Championship.