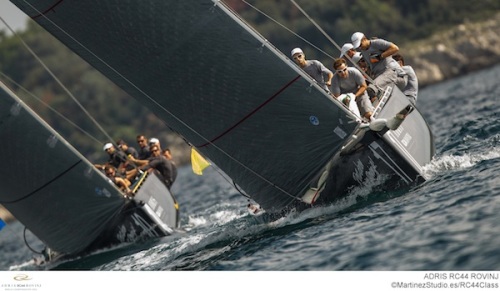 RC44 SAILING – In the RC44 Class match racing takes the form of a round robin rolling throughout the season, held on the first day of each regatta. After four regattas – in Puerto Calero, Canary Islands; Cascais, Portgual; the Austria Cup on Lake Traunsee and Marstrand, Sweden – Synergy started today in Rovinj with a three point lead over Hugues Lepic's Aleph Sailing Team from France.
The day was characterised by light winds, a major shift to the right half way through the afternoon and despite dropping below 5 knots towards the end of play, there was still enough to keep the nimble black RC44s moving.
While the Russian team and their American skipper Ed Baird could have had secured the 2012 match racing title half way through today, getting the result finally sealed in their favour proved extremely hard. Not only were they scheduled to sail less races than their competition at the start of the day, but they managed to lose two of their first three races. As a result come flight six, there was the almost unimaginable possibility for not only Aleph, but also Chris Bake's Team Aqua – which had started the day in third place, four points off the lead – to draw level on points with leaders. Yet, just as surprisingly, both Aleph and Team Aqua managed to let this opportunity slip through their fingers, losing their respective matches against the John Bassadone-steered Peninsula Petroleum and Vladimir Prosikhin's ever improving Nika, with local Croatian hero Tomislav Basic on the wheel today.
With Synergy winning its last match against Massimo Barranco's AFX Capital Racing Team and with the schedule of flights shortened due to the dying breeze, only then was the championship finally theirs.
"The conditions were really challenging," explained a delighted Baird. One issue was the current flowing left across the course, which built to around a knot as the afternoon progressed. As a result there were precious few dial-ups today. "Trying to get across from the port end in the two minute period that you have, against the current, to the other [starboard] end of the line, which was generally favoured, was hard," continued Baird. "The port boats were generally disadvantaged today and we did not do a good job of getting out of jail basically in two races."
On board Synergy, Baird is the lone American in an otherwise purely Russian crew. However the team has been together for a long time, both in the TP52 class and for the last two seasons in the RC44. "The guys on the boat have been training, working and improving," says Baird, who helmed Alinghi to America's Cup victory in 2007. "They haven't seen every scenario and we don't do everything perfectly, but they are certainly getting better as we do all of this. They are really wonderful to me and listen very carefully to everything I try to ask when we are racing. So far the language hasn't caused us any issues. They are doing a great job."
For Team Aqua, a couple of races could have gone better. In their match against Artemis, the Swedish boat had a penalty against them from the pre-start but this was nullified when they luffed during the first top mark rounding and Aqua failed to keep clear. Then in a near identical scenario at the weather mark in their match with Team Nika, they failed to round the top mark properly, handing the point to Vladimir Prosikhin's team.
Meanwhile Aleph Sailing Team was initially on a roll, winning their first three matches of the day, only to lose their last in flight six.
"It was a bit frustrating to get so close," admitted Mathieu Richard, Aleph's match racing helmsman. "But if we look back over the full season it's a great result to come second: Our goal was to finish in the top three, so we are happy with that."
In the crucial match against Peninsula Petroleum, Richard admitted making some mistakes, both in manoeuvres and tactics. "But," he added, "it is almost impossible to be on top for all of the match races, so I think we did a good job and I'm pleased with the way we have sailed all season."
While honours and respect go to Baird and the Synergy Russian Sailing Team, highest scorer of the day was American David Murphy and his Ironbound team, including tactician Andy Horton and Kiwi America's Cup legend and main sheet trimmer, Warwick Fleury. Scoring five wins they lost just one match to Pieter Heerema's No Way Back.
This is the third event of the season the Ironbound crew has sailed in the RC44 Championship after the first two events. "I wish that I could sail more," admits Murphy. "I have got young kids, so I have some conflicts I had to deal with…"
Murphy said that he felt they showed good speed today over the rest of the fleet in the light breeze. "We are looking forward to the fleet races with the kind of power we have in the boat and the pace we had today is very encouraging. The last race was a lot lighter. It encouraged you to go looking for power, but there was quite a bit of twist in the wind too, so it was easier than I thought to stay powered up, even in 4.5 knots…"