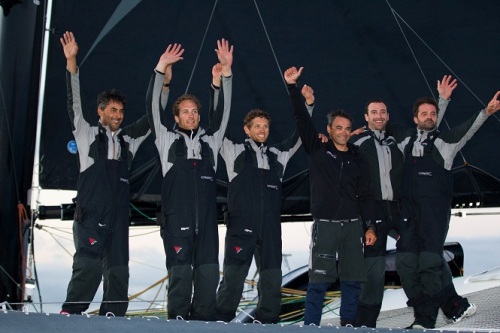 SPINDRIFT RACING – Winners of the Krys Ocean race in June and second overall in the MOD70 European Tour, Yann Guichard and the Spindrift racing crew triumph in the 2012 Multi One Championship.
Yann Guichard and Léo Lucet appreciate the results all the more because a year and a half ago, theSpindrift racing project was a sporting, technical and logistical idea jotted down on a blank sheet of paper. The boat is solid and reliable, the technical team is competent and expert, and the pure talent of the heavyweight sailing team are the ingredients of certain success. The sleek black and white trimaran showed its mettle throughout the different exercises, from the transatlantic race to the long coastal races, through speed runs and inshore courses. Léo Lucet, executive director of Spindrift racing and Yann Guichard are more than satisfied with this resoundingly successful entry into a class that they sincerely hope will develop and grow internationally.
Victors of two of the five legs, two City Race victories, Speed Match victories and bonus points at the departure of each leg, as well as a New York-Brest transatlantic crossing that was achieved in a record time… the whole team on sea and land can be complimented on a remarkable job. "The human aspect of the project is amazing," states Yann Guichard. "It was a collective adventure, gathering together competencies on the water and logistical talent on land, and it all worked according to the high standards I set. No individual egos or guest stars in this group. I have built a story with people who are engaged and committed to the project, who share my drive and motivation and way of working."
The program for this first MOD70 season was ambitious, with the Krys Ocean Race and the European tour, made to measure for the international potential of a new class of boats that must seduce a host of new partners. "This format is fantastic," claims Léo Lucet. "It's an exceptional international communications tool which worked wonderfully in New York and at every European tour city stopover. VIPs and journalists alike were able to sail with us, and the general public, a stone's throw away from the boats, really enjoyed the show. The objective, which we reached, was to make the discipline spectacular to demonstrate the excellent visibility it offers to sponsors and partners."
"It was a real sporting pleasure," adds Guichard. "Exhausting, demanding – exactly what we, sailors, want." Guichard, Lucet and the whole sailing team on the black and white catamaran, Pascal Bidégorry, Yann Eliès, Erwan Tabarly, Jacques Guichard, Sébastien Marsset, Jean-Baptiste Levaillant, Devan Le Bihan, Thierry Douillard, Kévin Escoffier, Christophe André, Frédéric Brousse, Nicolas Charbonnier as well as the team on land, Philippe Echassoux, Tim Carrie, Florent Le Gal, Nicolas Débordès and Astrid van den Hove rose to the 2012 challenge.
With its solid team, proven knowhow and indisputable talent on the water, Spindrift racing has climbed the charts in record time. The most immediate next challenge for the young company is to find a partner for MOD70 Nr 05, in order to share strong and motivating values. "Given our results, our media successes and the public's enthusiasm for this new class, we hope to succeed in this too," comments an optimisticGuichard.
The five trimarans all finished the races brilliantly, with no more serious incidents than the usual encounters with unidentified floating objects. This year Spindrift racing will have sailed some 15,000 miles, with an astounding mean speed of 28 knots last summer. No small feat and quite a reference in terms of dependability.