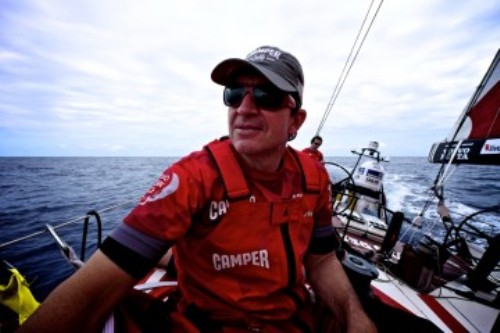 VOLVO OCEAN RACE – Leg 6 leading skipper CAMPER's Chris Nicholson will be sleeping with one eye open while he keeps watch on his adversary Abu Dhabi as the dueling pair dodges rocky outcrops up the coast of Brazil
At just 20 nautical miles off the Brazilian coast the pair has a lot more to worry about than each other – – it is the competitors who can't be seen that they need to be most wary of.

About 100 nautical miles to the south east of the leading couple, PUMA Ocean Racing powered by BERG are building pace and closing in on the lead after a frustrating day parked under an inescapable cloud.

At 1900 UTC CAMPER with Emirates Team New Zealand held just a 2.7 nautical mile lead over Abu Dhabi Ocean Racing, and PUMA had closed in to trail by just 13 nm. Team Telefónica remain fourth and Groupama sailing team fifth.
"You'd always prefer to keep your enemies close," CAMPER skipper Nicholson said as he faced the daunting wait to find out if the inshore option will pay off.
For overall race leader Telefónica and second overall Groupama, the last 24 hours have been spent dawdling in fickle breeze. But, Groupama skipper Franck Cammas is happy to be offshore, viewing the inshore option taken by Abu Dhabi's Ian Walker and CAMPER's Nicholson as risky.  MORE STORY