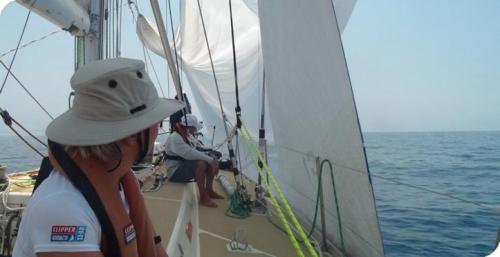 CLIPPER RACE – The last 24 hours has seen the competition heat up even further in the Clipper Round the World Yacht Race. Several of the ten yacht entries are now in sight of each other and as anticipated, the Race Committee has shortened the race course.
Race Director Joff Bailey explains, "The Clipper Race Committee, chaired by Sir Robin Knox-Johnston, has shortened the course for Race 10 by selecting one of the pre-existing gates within the Course Instructions as the new finish line. This line is perpendicular to the route and is long enough so that it does not adversely affect any team tactics, it is currently (at 0900GMT) 220nm ahead of Gold Coast Australia.
"The Race Committee has taken this decision after it was advised of maintenance work that is being undertaken on the Panama Canal locks over the coming weeks, the lighter than expected wind strengths on this section of the race and the need to maintain the overall race schedule."
Over half of the fleet is now in Stealth Mode, meaning they are only visible to the Race Office, while they can work out tactics. Qingdao, New York and Visit Finland have been added to the "invisible" list since yesterday.
Winds are still very fluky, but the fleet closest to coast can expect some bad weather this afternoon. Renowned fleet meteorologist Simon Rowell says, "As you get further east you should get some pretty energetic convective activity in the afternoons along the coast.  This will include thunder, lightning and if you're really lucky hail too." MORE STORY