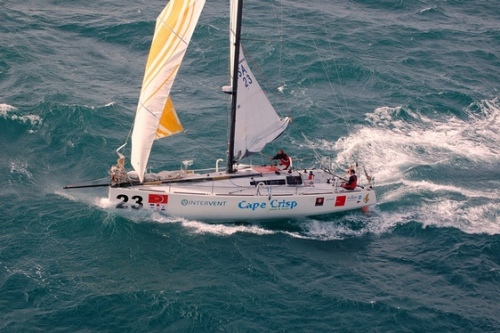 GLOBAL OCEAN RACE – At 15:00 GMT on Monday, the South African team of Nick Leggatt and Phillippa Hutton-Squire with Phesheya-Racing were 140 miles off the coast of South America with just under 400 miles remaining to the finish line in Uruguay after 36 days of racing from Wellington, New Zealand. Although weather files suggest that the duo has finally encountered tailwinds after a gruelling five days and around 700 miles of beating north from the Falkland Islands, the South Atlantic isn't making the final stage of the leg comfortable.
A violent knockdown on Sunday night could have been disastrous: "The sky lit up again and again…. lightning flashes filled the sky and outlined the dark black clouds," reported Phillippa Hutton-Squire on Monday morning. Unsure of what would happen next, the South African duo went to second reef with the staysail and as Phesheya-Racing approached the lightning storm, gusts rose to nearly 30 knots. "The main flapped twice and then, suddenly, the boat was hove-to!"Phesheya-Racing was quickly pinned on her side, water ballast to leeward with a backed staysail. "The rain was coming down like golf balls horizontally and you could see in the flashes that the sea was white," continues Hutton-Squire. "I was scared and shaking!" she admits.
However, the South Africans sprang into action, easing the submerged runner and tightening the windward backstay. "The boat was drifting sideways with the water washing up the side deck as high as the runner winches and occasionally into the cockpit…the spreaders were in the water and we were continually getting knocked flat." With the Akilaria Class40 on its side and the wind building to 35-40 knots, Hutton-Squire eased the mainsheet and dropped the traveller as Leggatt clipped on and went forward. As she eased the staysail halyard, the wind kept the sail filled and Leggatt had to haul the sail down hand-over-hand. "I could barely see him on the foredeck because of the driving rain, so I took shelter and wiped my eyes," adds Hutton-Squire.
It took two attempts to lower the staysail before Leggatt came aft to the helm: "He struggled as the rain was hammering him straight in his face," continues Hutton-Squire. The South Africans eventually got Phesheya-Racing under full-control and they changed to three reefs and storm jib. "The lightning was still flashing like a discotheque and the wind was very shifty," she reports. "The lesson you learn from this is to be rather safe than sorry," says Hutton-Squire. "We were lucky that we had reefed down from the beginning as if we hadn't we would have lost the rig," she adds.
Weather models currently suggest that the South Africans could remain off the wind until they reach the mouth of Rio de la Plata and the final 120 miles to the finish line. MORE HERE