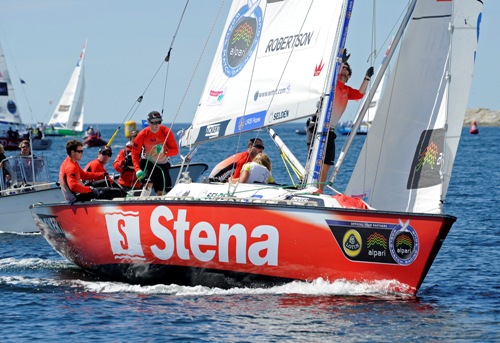 MATCH RACING – Phil Robertson went unbeaten in Qualifying Session 4 at STENA Match Cup Sweden to finish top and get the first pick of opposition in the Quarter Final of the event as he looks to continue his fantastic early season form through the Alpari World Match Racing Tour.
Robertson (NZ) WAKA Racing Team may have gone under the radar of some of his fellow skippers, having taken two of his three qualifying losses in the first day of sailing before winning seven from eight to secure the early advantage. A win in the final flight of the day saw him beat Peter Gilmour (AUS) YANMAR Racing in a match that was set to decide first position. Robertson, said: "When we started the Gilmour match, we didn't realise on board that it could allow us to top qualifying.
"There was a 30 degree wind shift about two minutes out and the guys on board did a beautiful job to position ourselves to get there first and we got a massive lead in the light shifting winds so it was a hard match to stay ahead, especially with a big lead. He caught right up then as the match got closer it was a bit more comfortable for us as we were able to stay in the same area and do what we do best which is keep it close and keep ahead.
"Our crew are all really comfortable with each other and one of our big strengths is the wind and spotting the breeze. When it comes down to that, when it's shifting like it was, I'd back our team any day and I have full confidence in them to tell me to go the right way so all I have to do is make sure the boat is going fast.
Gilmour remained relaxed about his final standing, saying: "The priority for this team is always to reach the latter stages of the knockout rounds ahead of topping qualification. Whilst it's important for count-backs and the choosing of your next opponent, we put more importance on getting our team practiced as much as possible at this stage whilst ensuring we're one of the eight that progress." MORE STORY