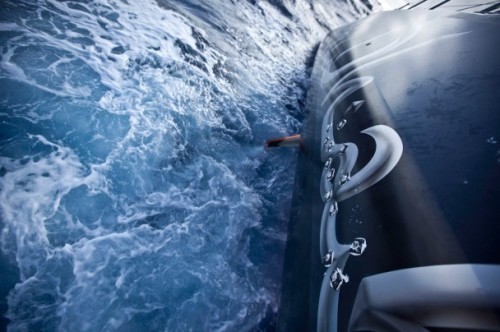 VOLVO OCEAN RACE– Abu Dhabi Ocean Racing are gearing up for what could be the team's toughest challenge yet — carrying out a three-day repair on their yacht Azzam in less than 48 hours.
Abu Dhabi are determined to get back on the start-line in Itajaí after suspending racing in Leg 5 due to hull damage and making the ambitious decision to ship Azzam directly.
Delays to the shipping of the boat from Puerto Montt due to extreme weather means an ETA into Itajaí of Thursday morning, two days later than first hoped.
Abu Dhabi have concocted a plan that could see them back in action for Saturday's DHL In-Port Race Itajaí — but everything must run smoothly if it is to work.
"We are right up against it," said team director Jamie Boag. "Some things we can control, some we can't. Resins have cure times, there is a limit on the amount of people who can actually work in a combined space, and there are only a certain amounts of hours in the day.
"We are also conscious of the old adage 'more haste less speed'. At the end of the day the repair has to be seaworthy. MORE STORY