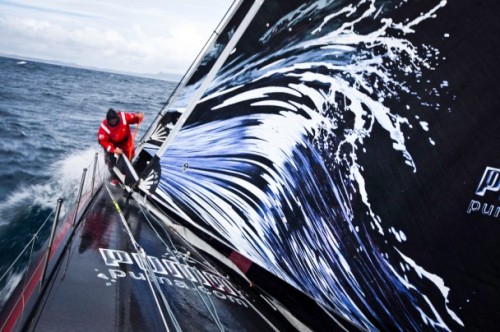 VOLVO OCEAN RACE – A 24-hour run of 527.8 nautical miles has earned Ken Read's PUMA team the IWC Schaffhausen Speed Record Challenge award for Leg 4.
PUMA Ocean Racing powered by BERG, who also set the best 24-hour distance in Leg 3, edged out leg winners Franck Cammas' Groupama sailing team by five nautical miles to record the best Leg 4 day's run on February 29.

Groupama claimed the Leg 2 top daily distance award when they clocked up 478 nm in the Indian Ocean on the way to then secret safe haven port in the Maldives. However, Chris Nicholson's CAMPER with Emirates Team New Zealand still hold the current race record after powering to 553 nm in a day on the first leg from Alicante, Spain to Cape Town, South Africa.

CAMPER's Leg 1 run was short of the world monohull 24-hour speed record of 596.6 nm set by Ericsson 4 during the 2008-09 race.

The team recording the greatest distance over a 24-hour period in each of the nine legs will receive an IWC Trophy.

The overall fastest time, over the entire eight months of the race, will land all 11 members of the winning crew with an IWC Portuguese Yacht Club Chronograph Edition "Volvo Ocean Race 2011-12".

Confidence is high that a new 24-hour race record could be set on Leg 5 when the boats take on the strong winds and big waves of the Southern Ocean on their way to Itajaí in Brazil.
Leg 4 best 24-hour distance from each team:
Puma          527.819 nautical miles
Groupama   522.394, Abu Dhabi   513.213, Telefonica   500.322,
Camper 471.679, Sanya 482.95