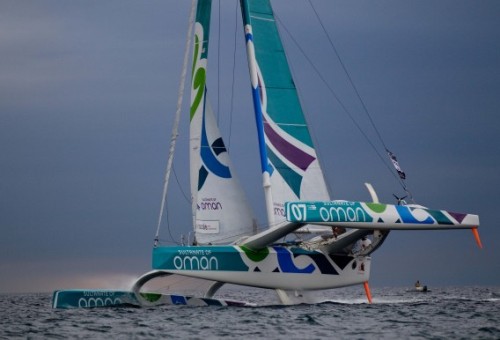 TEAM OMAN – Musandam-Oman Sail completed the last leg of the MOD70 European Tour 2012 in fourth place with rivals Race for Water crossing the finish line ahead of them by less than four minutes to claim the final podium place overall.
In a nail-biting close to the 651 nm leg from Marseilles to Genoa, Musandam-Oman Sail were just moments from the line and directly ahead of Race for Water, the boat they needed to beat for an overall podium place, when their wind changed direction allowing Steve Ravussin's crew to edge over the line in front of them.
That's yacht racing for you, said Brian Thompson, the British watch captain and helmsman who with more than 300,000 racing miles under his belt is accustomed to the highs and lows of top level competitive racing.
"We all know we have given it everything but it wasn't to be. The team work among the crew was superb and even though we haven't made it onto the podium, the progress we have made since the start has been outstanding. I think we can all be very happy and proud of our progress."
The finish in the Bay of Genoa where the top four boats were all in sight of each other after another tight contest, saw the fleet presented with their last challenge in the form of a complex wind melange.
"It was a very hard night because the wind was so tricky," explained Fahad Al Hasni, the Omani helmsman and trimmer.
"One minute stormy and squally, the next minute less wind then no wind. We were pushing hard but it was as if this wind did not like us and didn't want to help us.
"It was all very confusing but I guess that is racing. All the boats were in sight of each other – we were all together for five hours – but then to find the best wind, we all diverged.
"Some went on port tack and some on starboard tack but ten miles from the finish, we came together again and we were very happy because it looked like we were the closest boat to the finish line.
"We thought we had done it but stopped very close to the finish. The wind came through again but from a different direction which favoured Race for Water.
"We were in second place ahead of them just two miles from the line but then we stopped. Everyone was disappointed but there was nothing we could do. Some you win and some you lose."
The Oman flagship crossed the Genoa finish line at 7h 40m 03s local (GMT/UTC+2hrs) having spent 1d 15h 50m 25s at sea covering 676 miles averaging 16.97 kts.
They finished 29mins 03 secs behind the leader, Yann Guichard's Spindrift but it was Michel Desjoyeaux' Foncia that was crowned first ever MOD70 European 2012 champion after coming second in the final leg.