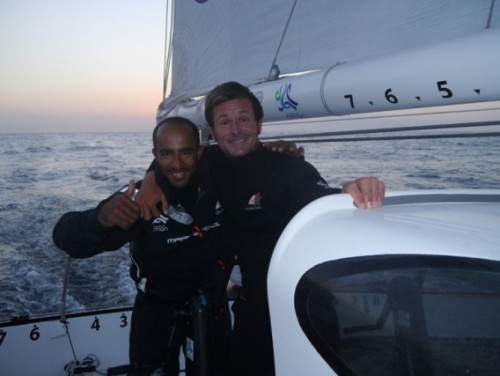 TEAM OMAN – The classic distractions of the Mediterranean Sea in September have become friends rather than foes to the crew on Musandam-Oman Sail who have extended their lead in Leg 4 of the MOD70 European Tour 2012.
Fleets of holiday cruise ships and large pods of dolphins have proved welcome escorts for Oman Sail's flagship which unusually for this race, is sailing alone out of sight of the other four MOD70 trimarans on the slow passage through the Med to Marseilles.
Within a few hours, Sidney Gavignet's crew of European and Omani sailors are hoping to be the first to pick up a fresher breeze that could see the 'rich get richer' after the latest position report showed Musandam-Oman Sail with a hefty 20 mile lead and more than 60 miles separating the fleet.
"We were totally becalmed this morning as the sun rose and we were a bit worried but we are creeping along again now so fingers crossed," reported Brian Thompson this morning.
"Since the start of the European Tour, we have always been in sight of another boat so it is strange being on our own. It is good because you just focus on your own sailing rather than trying to second guess them but they are in different water and you know at any moment they could have some wind and sail right round us. So it is quite stressful.
"Once we get steady wind, it should be great because the positions will consolidate. It could potentially be a case of the rich getting richer but until the wind arrives, we are not thinking that because at the moment it is all too fluky.
"There are two pairs of boats in sight of each other and we are on our own but I like our position."
With less than 400 miles to go on the 1071nm leg from Cascais to Marseilles, Musandam-Oman Sail was leading Steve Ravussin's Race for Water and Michel Desjoyeaux' Foncia by around 20 miles with Spindrift and Edmonde de Rothschild sharing the same water 40 miles behind.
The boats now nudging past the coast of Almeria will head northeast, climbing inside the Balearic Islands before crossing the Golfe du Lion to the finish in Marseilles. With the route littered perilously with wind holes, this contest is far from over.
"We are not getting excited yet," said Fahad Al Hasni, who like every member of the crew has been taking his turn on the helm to make sure Gavignet and Thompson, the principal helms are rested after a nerve-wracking 48 hours.
"We have been stuck with no wind for a day and a half and we are hoping for more wind so it could get more complicated when this system moves away but we just have to keep the boat moving."