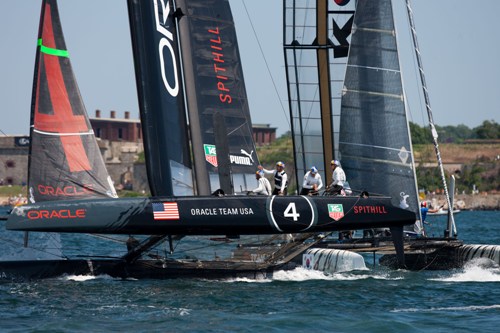 AMERICAS CUP – It was a frenetic opening day of racing at the AC World Series in Newport, the sixth and final stop on the global international circuit. In glorious conditions on Thursday afternoon, the overall series leader, ORACLE TEAM USA's Jimmy Spithill, extended his lead, while his nearest rival, Dean Barker, saw his season championship hopes sink with a dramatic and unexpected capsize.
Spithill had roaring start in the opening fleet race, powering off the starting line in light breezes to lead from start to finish, giving the American team top seeding in the match racing quarterfinals, which started immediately afterward. Pushed to the limit in the match racing, the team responded to advance to the semi finals.
"We went one-nil down, match point down, and I thought this was a great test for the guys to keep cool and fight back," Spithill said of his match racing. "I'm really happy with how we performed under pressure."
Conditions were tricky to start the day, with the forecast sea breeze not having filled in by race time at noon. But that didn't trouble Spithill, who extended a narrow lead at the first mark all the way around the race course. A big wind shift late in the race gave the chasing pack some hope, but Spithill held on for what was doubtlessly a satisfying birthday present for the 33 year-old skipper.
With the sea breeze then beginning to build ahead of the match racing, anticipation was high for an action-packed afternoon. The thousands of fans lining the shoreline at Fort Adams and crowding the race course boundaries with spectator boats on Narragansett Bay were not disappointed. MORE STORY