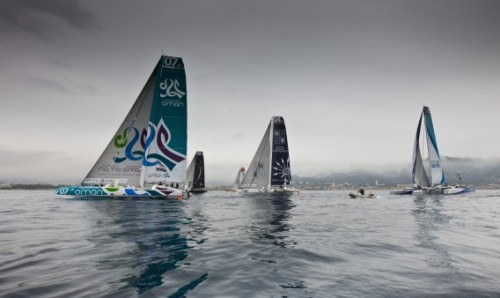 TEAM OMAN – It might only be a short sprint but the final leg of the MOD70 2012 European Tour from Marseilles to Genoa, which started today, is the pinnacle of a three month campaign for Musandam-Oman Sail who have set their sights on a podium place.
Having battled their way on to the podium in leg three from Dublin to Cascais, the team subsequently won the Cascais City race and the Cascais to Marseille offshore leg and scored a fourth in the Around Portugal. A third place in the Marseille City Race this weekend has left them determined to hold on to their hard fought for third overall.
The crew on the Oman flagship is pushing hard on this last 650 mile passage and the bonus points at the first scoring gate in front of the Roucas Blanc marina at the end of a loop around the Frioul Islands was their first priority.
Progress was painfully slow for the fleet of trimarans as light winds restricted their speeds but according to skipper Sidney Gavignet, who has been working with this crew since the start of the KRYS Ocean Race in July, this would not prevent Musandam-Oman Sail from putting pressure on their rivals.
"We are workers on Musandam-Oman Sail. We are missing experience so we deal with that by working hard, using our own method and being serious.
"Our results show that our method is working which is good news for the future because we can keep working like this and hopefully close in on the leaders."
"There is a lot to be decided on this leg – between first and second for Spindrift and Foncia and third, fourth and fifth between Gitana, Race for Water and us. Our tactic is to start first then go quicker and quicker and put more distance between us and the second boat and extend," he joked.
Leaving Marseille proved emotional for Gavignet and his mixed crew of European and Omani sailors. The French south coast port was where he learned to sail before his sailing career took off. It was also the place where Mohsin Al Busaidi met up with his wife and daughter after some extended time apart, owing to his Oman Sail commitments.
He is back on board for the final leg, having missed Leg 4 from Cascais to Marseille and was keener than ever to get a good result as the MOD70 European Tour draws to a close.
"I'm hoping to get a good result from this leg and really looking forward to it because I didn't do the last one," he said.
"We improved a lot in the last leg. Every leg, we set ourselves a goal and in this one I am working on the position of weight and how to heel the boat.
"We enjoyed Marseille because we visited a lot of places and met a lot of people – it was really good to be part of the event."