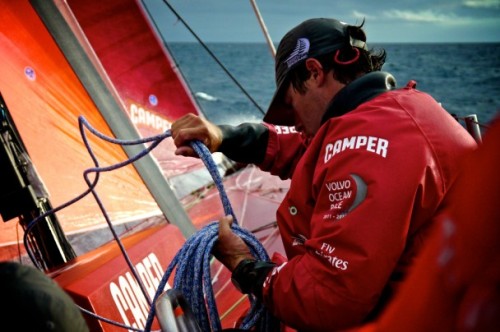 VOLVO OCEAN RACE – CAMPER skipper Chris Nicholson said he would "sooner smack his thumb with a hammer" than continue leeching miles to his competitors, but with the fleet soon to head into fast running conditions he is preparing to mount a comeback.
Nicholson said the team have been working hard on the reach to the turning mark at São Miguel island, as they try to hang on to the top three teams who all have Juan Kouyoumdjian designed boats that revel in the conditions. Nicholson said if his team could remain within 20 miles of the leaders once the fleet reach the islands then they would be in with a shot of reeling the frontrunners in on what is expected to be some fast and furious running.
"I reckon if we can get to the Azores, to the parking-lot as such, within 20 miles of them, that'd be OK," he said. "Several days ago I thought it could be worse."
For now, Nicholson and navigator Will Oxley are focusing on how they can capitalise on the opportunities that are to be had at São Miguel, which is enveloped inside the centre of the Azores High, where there is little to no wind.
"There's big gains and losses to be made getting around the island,'' Nicholson said. "Then it's a pretty fast trip if you keep it all in one piece."
The fast trip Nicholson is referring to is the second stage of the race, from São Miguel to Lorient, France, which will be powered by a massive low-pressure system that is packing gale force wind. Nicholson said "it would be like open season for any of the boats" once they're on the home run, only it was a question of just how hard each of the teams were prepared to push. Nicholson is hopeful his team will be contenders in the conditions, which he reckons they're pretty strong in.
"We think we're pretty good in those conditions, but to take these boats into 30 or 40 knots down wind anything can happen there,'' he said. MORE STORY