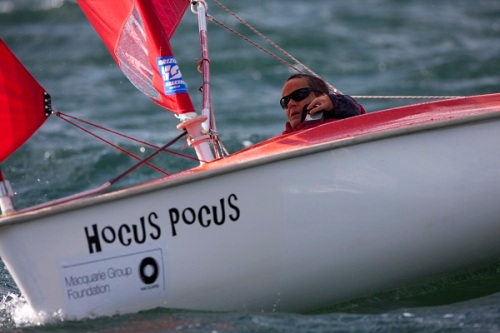 ACCESS SAILING – Helena Horswell, an effervescent New Zealander competing at the Macquarie 2012 Access World Championships this week managed to "laugh at nature" during the difficult conditions of Tuesday that all 120 sailors felt the wrath of.
Horswell successfully completed Tuesday's course in a race many could not start or finish, due to equipment failure caused by the 26 knot gusty winds accompanied by choppy swell. The plucky Auckland sailor was not immune though; she blew out a jib but carried on sailing with the rope trailing through the water.
Water sports have always held Horswell's interest, but she only seriously started sailing four years ago when Sailability introduced her to the Access Liberty and Liberty Servo boats. She enjoyed herself so much she bought a boat from Sailability, making her the first private owner of an Access boat in New Zealand.
The Servo boats offer varying degrees of mechanical aid, such as levers to execute turns for sailors whose arms are affected by their disability. This can offer its own difficulties: "The heavy winds are hard with the levers," explained Horswell, "you can't feel the turns."
Despite her relatively short time in the sport, Horswell has done quite a lot of competitive racing. She has been in national level events at home, and raced in Perth last year. The Macquarie 2012 Access Worlds, however, is her first international regatta and she particularly likes the "support and back-up" available at the event.
The New Zealander is currently leading the international fleet in Servo class, including three Dutch sailors who are breathing down her neck. However, she is the only one in the single-person Liberty Servo event to finish every race, sailing her aptly named 'Hocus Pocus'.
Horswell says the standard of competition at these Worlds "is very high," and fears she may "snatch defeat from the jaws of victory!"  Her main rivals are Vera Voorbach and Wilma Van den Broek, both from The Netherlands.