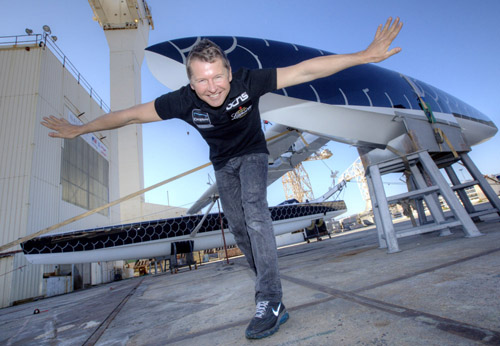 COOL PICS – Enjoy these photos from a recent visit to the legendary Hydroptère DCNS trimaran at her home in La Ciotat to have a look at her stylish & apropos 'flying fish' livery which began application on the main hulls over the winter season thanks to the creative design process by the agency Dragon Rouge. Always a unique and somewhat ominous experience to photograph a Hot Rod in waiting, you are able to feel the Hydroptère's energy and capacity for flight even while she is resting on the hard.
Within the next few weeks, the Hydroptère team will assemble the boat on the quay outside the H2X shed for an intensive logistical analysis and inspection routine to ready the boat for her inevitable great things to come. L'Hydroptère is to undergo an ambitious schedule spearheaded by the DCNS group, primarily the Transpac passage record attempt from Los Angeles to Honolulu, slated for June of 2012 and currently held by Olivier Kersauson and his crew of Geronimo, set in 2005.
L'Hydroptère is no stranger to speed records and is the proud holder of the outright speed record by a manned vessel at 51.36 knots for 500 meters (2010) and 50.17 knots for 1000 meters (2009). The only speed higher has been by achieved a kitesurfer at 55.65 knots, but we doubt that the men of L'Hydroptère have had their final say in the matter.
A very enthusiastic Alain Thébault, the skipper of the newly decorated flying fish, had this to say:
"I had a dream, I wanted to make a boat fly. In the US, everything is possible. I am impatient to share my flying carpet with American people."
A magic flying carpet indeed, we look forward to your immediate future visit to the States and the continuation of the successful legacy of L'Hydroptère with an anticipatory ear to the water.

For more cool pics fromChristophe Launay go to www.sealaunay.com