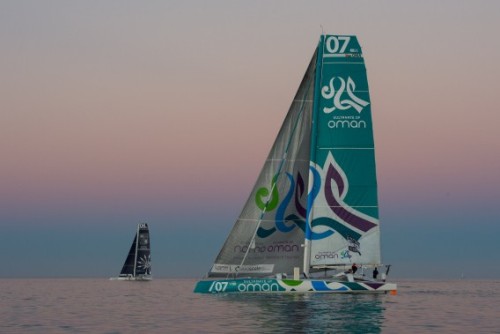 OMAN SAIL - Having lead the fleet for most of Monday, Musandam-Oman Sail hit the ridge of light breeze lying on the approach to Cascais and stopped dead in their tracks knowing that whoever in the fleet of MOD 70s picked up the new breeze beyond the ridge would most likely win the 975 nm leg from Dun Laoghaire.
Musandam-Oman Sail's young crew were furthest offshore while Spindrift, who took the lead on Monday night moved into convoy with rivals Foncia closer to the coast line and the three shuffled towards the breeze separated by less than three miles.
When the breeze arrived, progress was lightning fast with the trimarans reporting speeds of 30 knots but at the finish Musandam-Oman Sail lost out by 55 minutes to Spindrift, skippered by Yann Guichard and remarkably, just six minutes to Michel Desjoyeaux' Foncia.
"Even before the finish we were very tight, and the level is so high," said skipper Sidney Gavignet.
"At the end we decided to be on the outside of the turn coming into Cascais and in fact there was more wind on the inside. That was a mistake, but it was very uncertain.
"Overall it was a good leg. What is important is the overall and from that point of view we did a good job and learned a lot, about boat speed especially. We were in the match.
"Learning is important for all of the boats, but especially us. We are a bit disappointed because we could have finished second, but only a little bit because it could have been fifth as well. I think it has been very good work."
Leg 2 finish Cascais (UTC time)

1-Spindrift racing (EUR) at 05:37:36
2 – FONCIA (FRA) at 06:26:49
3 – Musandam-Oman Sail (OMA) at 06:33:22 (2d 16h 33′ 22 (+55mins 46secs))
4 – Groupe Edmond de Rothschild FRA at 06:37:36
5 – Race for Water SUI at 06:53:30