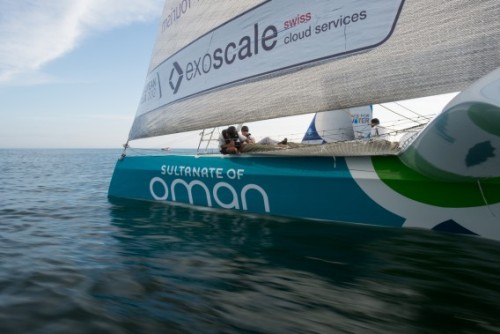 TEAM OMAN – Musandam-Oman Sail was leading the procession down the Portuguese coast in Leg 4 of the MOD70 European Tour 2012 with all their efforts and energies focussed on keeping the boat moving in the light and fluky winds.
This would be frustrating if we were at the back of the fleet, said helmsman and watch captain Brian Thompson but being at the front of a compacted fleet, separated by just 20 miles, was bringing out the best of their crew in difficult circumstances.
"This is tough but we were prepared for it," he said.
"We have done around 120 miles in 18 hours so it has been quite slow but we had a good night – although the wind went light at times we managed to stay in it and keep going. We said this will be a game of snakes and ladders and that is what is happening.
"We managed to climb up both the ladders last night and avoided the snakes but there will be plenty more to come.
"The weather patterns over the next few hours are varied which makes everything uncertain. Who knows whether this will play into our hands. We will have to wait and see but no one could be confident of maintaining the lead at this stage."
The Omani flagship had stretched their lead over second placed Race for Water, skippered by Steve Ravussin from three to seven miles overnight after both benefitted from staying closer to the shore where there was more wind.
They moved to the front of the fleet just as they passed Cape Saint Vincent at the most south-westerly point of Portugal having been in the mix from the start of the leg in Cascais.
They are now headed east towards Gibraltar across the Bay of Cadiz on the 1071 nm leg to Marseilles in the Mediterranean.
For this leg, there is a new addition to the mixed European and Omani crew with inshore specialist Khamis Al Anbouri replacing Mohsin Al Busaidi for his first offshore leg of the tour.
"So far so good," he reported this morning from the comms station on board Musandam Oman Sail.
"When we started out in Cascais we were behind a little but we managed to catch up and just kept going. The light airs are not enjoyable but they are a challenge for all the teams – keeping the boats moving all the time in these conditions is a real test.
"It is very slow but our team on Musandam-Oman Sail really wants to get on the podium in this leg so I'm really looking forward to being there with them at the end."