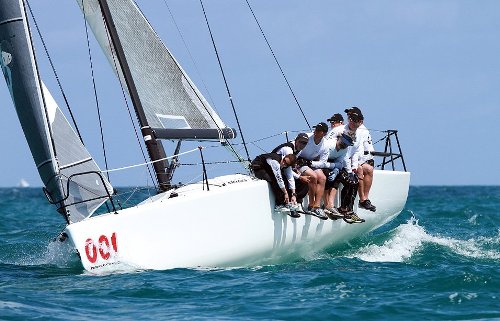 MELGES 32– Miami, Fla. – Amidst the towering mega yachts of Rybovich Marina in West Palm Beach, Florida, sixteen high-powered Melges 32s are fully locked and loaded, ready to race just off the shore of Palm Beach, Florida. Hosted by the Sailfish Club of Florida, the West Palm Beach Regatta is the fourth in a series of six North American events scheduled in 2012 and also serves as the class' East Coast Championship.
Rybovich's south dock is a star-studded sailing walk of fame populated with the likes of Jonathan McKee, Cameron Appleton, Eric Doyle, Dave Armitage, Andy Horton, Bill Hardesty, Skip Baxter, Hayden Goodrick, Michele Paoletti, Tom Burnham, Peter Holmberg, Charlie McKee, Johnny Lovell, Charlie Ogletree, Jeff Madrigali, Vasco Vascotto, Lorenzo Bressani and Ed Baird, just to name a few.
2012 Audi Melges 32 Sailing Series leader and winner of Marina di Loano, Lanfranco Cirillo on Fantastica is expected to fair well. "We try to do every regatta in the U.S. and Italy," says Cirillo. "The competition here is very tough. We were happy to win Marina di Loano, but now, the time has come to really focus on doing well at Worlds and race as much as we can against the boats that will be there."
Other front-runners include 2011 U.S. National Champion Jason Carroll and his tenacious Argo team, 2012 Key West division winner John Kilroy on Samba Pa Ti and most recently crowned Miami Champion Alec Cutler on Hedgehog.
Wednesday and Thursday rounded out the preparations for battle including final crew weigh-in, boat prep and practice. At the skipper's meeting, PRO Hank Stuart briefed competitors on what was to be expected of the event — plentiful sunshine, warmth and a potential eight terrific races. MORE STORY