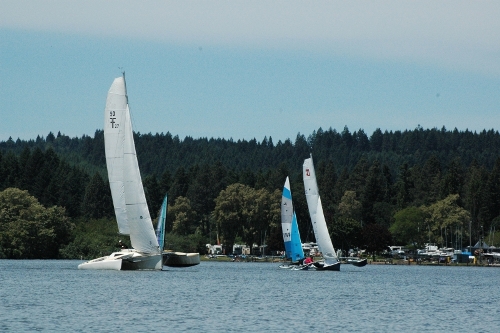 FROM OUR READERS – Living on the edge of our patience in wait for wind, is an appropriate summary of the "Live on the Edge" Multihull Regatta.  While on Friday the early arrivals were greeted with very strong winds and squalls, on Saturday the wind failed to build despite the efforts of the Race Committee to set out a course for the boats drifting in anticipation.
Ultimately the waiting was called off and all headed in to taste the cold Ninkasi beer (donated!) and the now famous pizza dinner. Sunday started out in similar fashion, but ultimately the Race Committee was able to set out a short course in a very, very light and fickle breeze. But after the first fleet was sent off, the wind changed direction and further starts were called off. Eventually a new course could be set and the 4 remaining fleets got their start in still light wind and enormous shifts.
By mid afternoon the long awaited North breeze settled in and we did finish the Regatta with some great sailing on yet another course. Race Committee set a long course and made sure all boats could take advantage of the best conditions of the Regatta. Hard work for Committee and the boats setting the marks, but a great effort to make something from very difficult conditions. And what a great way to end the Regatta!
Turnout was great, we had 36 boats racing, split over 5 fleets: The fast fleet, with Portsmouth rating of 70 or less, consisting of 5 A-cats and two F-18s; The high Portsmouth Fleet, the largest fleet with 9 entries, all boats with a Portsmouth rating over 70, such as Prindle 16, Hobie 18, Sea Spray, Hobie 17; Hobie 16 fleet, Hobie 14 fleet, Trimarans, F27, F24 and Tremolino
The new feature of team racing was well appreciated. Teams of four boats had been randomly selected and their final ranking was used in a calculation to account for the fleet size in which they raced, to come up with a team total. It was cause for good conversation around the beer kegs and connection between the various fleets.
Overall winner of the perpetual "Live on the Edge" Pennant were local sailors Phil Collins and his daughter Kristin in their Tremolino. They were presented with the Pennant by last year's winner Laura Sullivan.
Full results and lots of pictures (by Keith Dunlap) are available on the event website, http://eycmultihulls.com