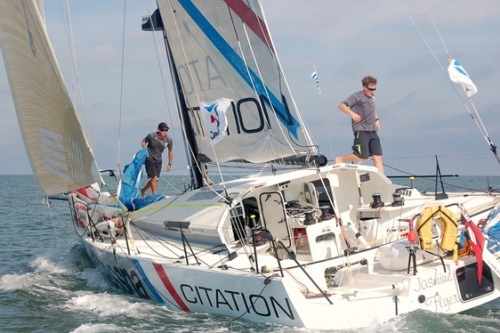 GLOBAL OCEAN RACE – After the busy build-up to the start of Global Ocean Race (GOR)Leg 4 from Punta del Este to Charleston, the four double-handed Class40 teams have made steady but slow progress over the first 24 hours along the coast of Uruguay led by Cessna Citation with the fleet spread over 15 miles.
Averaging under five knots just 13 miles from the coast at 16:00 GMT on Tuesday, Conrad Colman and Scott Cavanough are enjoying the comparatively relaxed sailing on Cessna Citation: "After the slightly manic 36 hours before the start it has actually been an idyllic start to the race as Scotty and I are still learning to sail with each other and slow speeds and light winds have made our first miles pass easily," reported Colman on Tuesday afternoon.
The New Zealand-Australian duo took the lead as the start line spectator fleet turned back towards Punta del Este on Monday afternoon, but the wind and speeds began to drop at 06:00 GMT on Tuesday. "Despite stretching out during the afternoon we lost our advantage during the night as speeds approached zero and the wind became patchy," Colman confirms. "We could always see a masthead light behind or beside us and there's nothing better to concentrate the mind to the task at hand!" he adds.
Currently tied in second place, the South African duo of Nick Leggatt and Phillippa Hutton-Squire on Phesheya-Racing and the Italian-Slovak team of Marco Nannini and Sergio Frattaruolo onFinancial Crisis are within hailing distance with the Dutch team of Nico Budel and Erik van Vuuren around nine miles further south with Sec. Hayai: "Now, almost 24 hours into the leg the four boats are still within sight of each other and we have occasionally even been able to shout across the water to Marco and Sergio," explained Nick Leggatt on Tuesday afternoon. Closest to the coast, Leggatt and Hutton-Squire are indulging in some sightseeing: "A few small hills are still visible to port, between Cabo Polonio and Punta Palmar, and as I write there is a hint of an easterly starting to blow," continues Leggatt.
Following five weeks in Uruguay, the teams are now re-adapting to life on board and the racing routine: "Thank you to all those who were able to get out on the water to watch the start of the race," says Leggatt. "The hospitality in Uruguay was fantastic and we are very grateful for all that the Yacht Club Punta del Este did for us while we were there and thank you also to those who helped us to prepare Phesheya-Racing for this leg!"