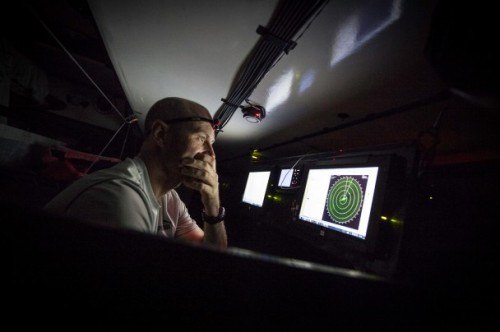 VOLVO OCEAN RACE – The front three teams were neck and neck early on Wednesday as the battle for the Leg 6 lead reached new heights.
As the race to Miami entered its 11th day, it couldn't be closer at the front of the fleet as CAMPER moved to within half a mile of long term leaders PUMA, the closest any team has been to the frontrunners since leaving Itajaí in Brazil on April 22.
Overall race leaders Telefónica were just three miles back, the most westerly boat in the leading trio.
Ken Read's PUMA Ocean Racing powered by BERG had the narrowest of speed advantages over their rivals at the 0400 UTC position update sailing 0.1 of a knot quicker over the previous three hours, but spirits were high on CAMPER with Emirates Team New Zealand as they took pleasure in hunting down the frontrunners.
"It is PUMA's turn again to be the focus of our pursuit," said CAMPER's media man Hamish Hooper.
"We managed to quietly slip around Telefónica during the night previous and managed to close right up to PUMA who had been on our starboard horizon all day, slowly getting bigger and bigger.
"The next three days are looking like good fast trade wind sailing, so hopefully we can keep in the mix until the last 1,000 miles where anything is going to likely happen."
Skipper Chris Nicholson added: "We have been locked in a three-way battle to leave the Doldrums and enter the trades. Telefónica, PUMA and ourselves are virtually lined up across 15 miles of ocean racing to get into the trades first and benefit from a small jump on the other two boats."
The teams are all racing to be the first to the trade winds, consistent and favourable breezes that will see the boats rocket north-west towards Miami at speeds into the 20s.
The first to pick up the trade winds could get a priceless jump on their rivals as the fight for the smallest of advantages continues.
Eighty miles behind the leading trio, Abu Dhabi Ocean Racing and Groupama sailing team were locked in their own battle for fourth and fifth.
Groupama closed the gap to just two miles in terms of distance to finish, and despite a lateral split of 40 miles, both teams were evenly matched averaging 11.2 knots.