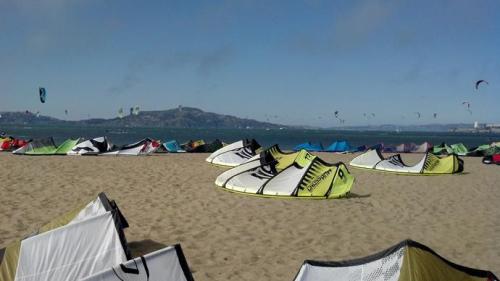 AMERICAS CUP – So you're the principal race officer for the 34th America's Cup. What do you do for a holiday? That was the question posed to John Craig last week.
It turns out he relaxes by marshalling dozens of kiteboarders around a race track on San Francisco Bay as the race officer for their North American Championship.
"I've been heavily involved in kiteboard racing from running some of the early regattas back about six years ago to the first sanctioned World Championships for the kites in 2009," Craig says.
"There are a lot of similarites between what we do with the AC45s and the kites. Obviously the speed factor is there in both classes… And a lot of the race track is in the same area where we'll be racing the AC45s in August and October."
One difference is the number of 'boats' on the race track. While the AC45s have just broken into double digits on the start ilne, there are 66 kiteboards racing this weekend.
"We divide them into two groups and we make the starting line relatively long," Craig says. "They're pretty amazing at keeping the kites from tangling, but they are very competitive – it's like a regular sailboat race start."
If you're in San Francisco on Sunday afternoon, check out the action on the waters off Marina Green and Crissy Field. Racing starts at 14:00.