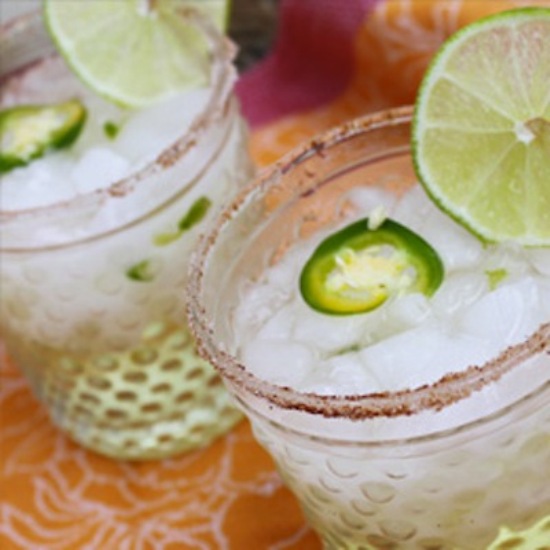 HAPPY HOUR FRIDAY – Getting tired of the same old margaritas? Spice it up with a little fresh jalapeno! Upon first sip, this cocktail tastes much like the original. But soon afterward, you will feel the slight and pleasant warmth of the jalapenos on your lips. Peppers can vary greatly in their heat, so taste yours before deciding whether to add one or two slices to the shaker.
Ingredients:
1-2 slices jalapeno pepper 2 ounces white tequila 1 ounce cointreau or triple sec 1/2 ounce simple syrup juice from 1 lime salt chile pepper, optional 1 lime wedge
Directions:
Simple syrup is very easy to prepare. Place equal parts sugar and water in a small saucepan and heat until sugar is dissolved. The mixture lasts a week or so in the fridge. You can also heat the mixture in the microwave.
1. Rub the rim of a cocktail glass with the edge of a cut lime. Sprinkle salt (and chile powder if using) on a plate and run the rim of the glass over it to coat. Fill glass with crushed ice. 2. Muddle (smash using a muddler or a wooden spoon) the slices of jalapeno in the bottom of a cocktail shaker. 3. Fill halfway with crushed ice, then add the tequila, cointreau, simple syrup, and lime juice and shake vigorously. 4. Strain the mixture into the prepared cocktail glass. Garnish with a lime wedge and a slice of jalapeno and serve immediately.