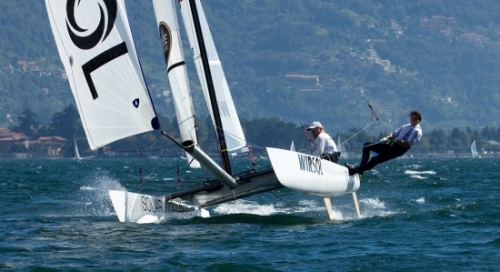 Photo by
OLYMPIC CLASSES – Tornado President Roland Gaebler was interviewed by Martin from Cat Sailing News here are some of the questions and answers.
CSN: Have you sailed an F16? If so , how was it?
RG: Yes we did. I had the feeling I was back on a much smaller boat, personally it was just too small for us. We felt we were always about to front loop in the big waves. Maybe we sailed on the wrong boat but this was our impression. It will be great to see how the boats perform against each other in Santander at the evaluations.
CSN: The F18 is the most competitive and popular performance cat class, how do you see its future?
RG: Great racing everywhere. Okay, it has an old fashion Aluminum mast and is heavier than a Tornado but the big fleets around the world show the class is on the right track and the dealers are also pushing the class to the top. I think the F18 and A cat will be the biggest fleets in the future.
CSN:How do you see the future of cat racing and the AC ?
RG: The AC are at the top and hopefully a real flyer will come for the Olympics which will also promote our sport in the best possible way between all the other great classes. The multihull market will increase also in the leisure racing and sailing. It's a win win situation for all of us. More boats. More jobs. More fun. The AC is the new undisputed F1 of the Multihull world and we are excited to see where they will lead our sport in the future. They really have been a media success and we have many lessons to learn from them, maybe we will see a trickle down effect into Olympic multihull sailing as they prove new technical concepts and media promotion. It is also great for us as a class to see so many previous Tornado sailors taking part in the campaigns.
CSN: If the T is not selected, which is your next option?
RG: For me the new Nacra 17 looks good, compliments to Nacra for coming up with such a boat at the right moment. So far this is my second favourite after Tornado but my only concern is that there has not yet been much testing on the water, let's wait and see!
CSN: You will compete if an F16 is selected?
RG: No, personally this boat is far too small for us. We also believe that more than 50% of the actual mixed teams will also not sail F16 because they weight more than 140kg. It is really an excellent boat for the national and club youth programs, ISAF Youth Worlds and Youth Olympics. But I believe not for fully grown muscular female and male athletes. The Olympics should be a real sporting challenge for Olympic Athletes. I believe that 16 foot Cats are for the Youth, 18 foot is great for the leisure racing and 20 foot for the Olympics. This system has worked in harmony for the last few decades. This is the perfect configuration in cat sailing so why destroy this?
CSN: You are in a weight minimum campaign, tell us in your opinion how this affect to performance on smaller cats
RG: It's very simple. If you are too heavy, you have no chance between 3 and 12 knots of Wind in a small cat. The "ultralights" will win the races and the Olympic Medals. If we looked to the majority of Olympic Classes for 2016 (470, skiff, windsurfing) we already have mostly boats for light sailors. We do not need another one.
CSN: I agree with you that pushing for a low min weight is not that healthy, and I think even the F16 can stand a wider range, so I don´t get why the 140kg limit- you've made a report on this, which were the results?
RG: We are unsure the reasoning behind the ISAF evaluation team making the 120-140kg target. A man above 80kg can only sail a Finn or stop his Olympic Dream. Same way the average weight of a Man/Olympic Male Athlete is 81kg. If you look to the light wind scenario in Rio de Janeiro, we may end up with teams up to 110kg if we use a smaller boat with less sail area. Nahid, my wife asked many mixed teams in F18, F20, Tornado and other classes about their weights and more than 70% are over the 140kg. We should have a higher minimum weight to represent real world athletes.
CSN:Final thoughts on the Trials and outcomings
RG: We can't wait! We feel that it is bad that the new Hi Tech F18s have stopped their campaigns, we are unsure why, maybe you know more Martin? We would have loved to see more boats there! As the only class association lead boat at the trials, we feel that we are strongly positioned to offer great value as we don't have a profit motive. Just a motive to offer spectacular 'Olympic ring' winning races for the public, media and IOC. It is nice to see that the AC45s are upgrading their wings with more sail area to deliver more
performance in light winds for media, spectators and sponsors. The forecast for Rio de Janeiro and the summer Olympics is mostly light winds. We are surprised the bigger boats didn't come along to the trials. We believe that a new boat will change nothing. We must change the racing system. To get more nations we need supplied boats for ISAF World Cup Events, World- and Continental Champs and Olympics. That's why the Laser is so successful. This system can also work for Olympic Multihull Sailing. To get the media, spectators and sponsors we need a real flyer, let Multihull win the media award again!
The decision is now with the MNAs and evaluation teams to decide what they want. Already the MNAs have lost the Star and the Elliots. Maybe they need new surfboards too. Imagine how much money they have lost in this period. Now they must decide if they want the same scenario in
Multihull with a new class or take the proven boats and quality we have. Many nations still have
Tornado's sitting and waiting, they would have no expense.