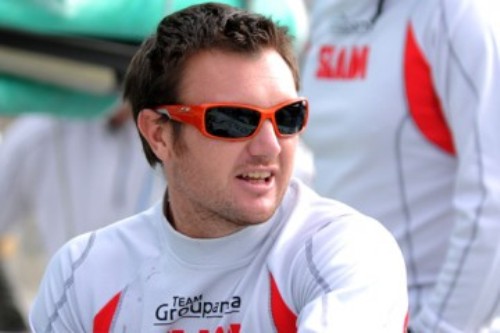 VOLVO OCEAN RACE – The 32-year-old Australian fell twice in succession as Groupama 4 ploughed into massive waves in the Southern Ocean – and the injury means he can no longer take on his driving duties.
"At the moment it's pretty tender and I'm not too sure what the damage is, or whether I can do the next leg," Harmer said.
"We're talking about me maybe missing the next leg to allow the shoulder to be right for the rest of the race.
"I'll see the doctor and physio when we arrive in Itajaí, see what the damage is and assess it then."
Harmer picked up the initial injury when he was thrown forward while bailing out water inside the boat as Leg 5 leaders Groupama 4 slammed into a wave at 28 knots.
"I flew through the front hatch and tried to stop myself by sticking my arm out and managed to damage my shoulder in some way," he said.
"That put me out of action for a couple of days which was pretty frustrating, having to watch your mates sail the boat for you while you're lying downstairs helpless.
"I managed to drag myself up on deck again a couple of days later, and then a similar thing happened.
"I came down off watch and went to the galley to get some food and we nose-dived and I managed to plough into the keel bulkhead on the same shoulder."
With one arm out of action, Harmer's jobs on deck have been reduced from steering, trimming the sails and grinding to hanging on to the mainsheet for hours on end in the freezing, wet conditions.
"As you can imagine in the Southern Ocean, hanging on to the mainsheet for four hours at a time gets pretty cold and boring," he added.
"It's nice to be able to help out the guys in some form – it really plays on your mind when you have to lie in your bunk not being able to help out."
Meanwhile on PUMA Ocean Racing powered by BERG, injured crewmen Casey Smith and Thomas Johanson were both recovering well after they were hurt in the early stages of the 6,700 nautical mile leg from Auckland to Itajaí.
"Thomas is back to 100 per cent, helming and trimming again," PUMA navigator Tom Addis said.
"Casey is back in the watch but he's not quite up to full bowman duties just yet. But every day he gets a little bit better."