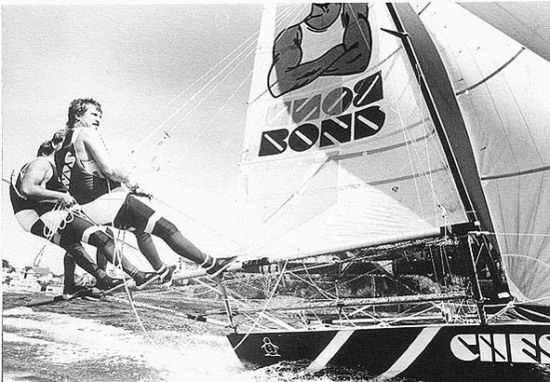 18ft SKIFFS – With the J. J. Giltinan 18ft Skiff Championship less than one week away, one man who must be having mixed emotions is two-times Giltinan champion Adam South.
South, who won the titles in 1987 and 1988 with Trevor Barnabas and Phil Barnett on Chesty Bond, is certain to have divided loyalties between two totally different teams.
Adam was one of the principal forces behind the 'wing mast' being used by Jonathan Whitty, James Hozack and Aron Everett on Lumix, and Adam is also sailing coach for the Lumix team.
Despite his enormous involvement in the 'wing mast' concept and the Lumix team performance, he must surely be hoping for the success of the rookie all-girl Lomax Financial Group team.
Adam's 19-year-old daughter Alexandra (Alex) will skipper the Lomax skiff, and along with Saskia Tidey and Lizzi Rountree, the team with become the first all-girl crew to contest the Giltinan Championship during its 74-year history.
U.S. skipper Katie Love will also be skippering an all-girl team at the Giltinan to share the honours with the Lomax Skiff Chicks.
In the lead up to the 2012-2013 Season, Adam had to put the whole Lomax boat together and has been a guiding light to the girls as they have progressed throughout the season.
Jono Whitty has nothing but the greatest praise for Adam's involvement in his campaign:
"At the end of last season, Adam talked to me about how we could improve the skiff for this season and discussed different options.  We decided the ultimate option was to build a wing mast".
"Adam was with me every step of the way, and with his extensive sailing background and experience was the perfect mentor for the project".
"We (the Lumix crew) are grateful for the hours and effort he puts in with our race program and certainly benefit from his knowledge and commitment".
Alex had just as much praise for the work he has done for Lomax Financial Group:
"Dad had to start from scratch when we got the boat from the League".
"He went over the hull and the sails with meticulous detail and brought the boat up to scratch and ready for racing in record time".
"Once the season began he has been so helpful with keeping the boat in good shape as well as supervising our training, and I just don't know how he manages to find the time and the energy".
Frank Quealey