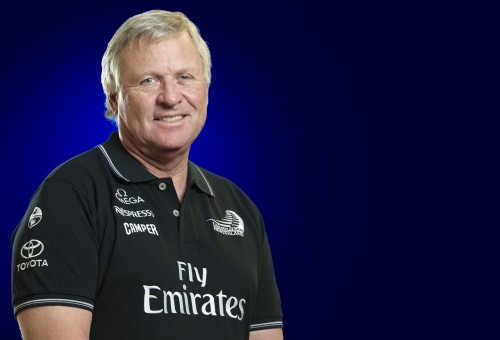 TEAM EMIRATES – Coach Rod Davis blogs on a great summer of sailing in Auckland – good weather and great racing …
It's all on in Auckland this summer. Clearly Emirates Team New Zealand has the America's Cup on the brain, with our second boat about to go for its first sail.
After that shake down, we will get into a training/racing period that will test everyone to the limits. But that is only a fraction of the sailing going on in Auckland.
The summer weather has seen great participation in the evening racing and a big jump in entries for the OceanBridge Sail Auckland regatta. One hundred and fifty boats with the finest sailors from New Zealand and nine other countries took on 20-25 knot winds over four days.
Traditionally this regatta has centred on the Olympic classes but this year the fleets were more varied, with half being non-Olympic, grass roots sailing.
That's not to suggest competition was at a lower level – but perhaps more down to earth. The OK Dinghys outnumbered the Olympic Finn two to one on the start line; there were 13 420s but only five of the Olympic brother the 470.
What does that mean?  It means things are good for yacht racing at grass-root level.  And grass-root level is what really counts long-term.
I did have a chuckle at the expense of the windsurfers and ISAF. The kite board was selected over the windsurfer for the 2016 Olympics. After a huge outcry by the windsurfers all over the world, ISAF backed down and the decision overturned in November.
Now with the windsurfer back for Rio, they can muster only seven women' sailors board and four men.  There were 20 kites at Sail Auckland. Maybe being an Olympic class is the kiss of death for "real" growth.
On the surface it seems strange that a non-Olympic class can attract more sailors than an Olympic class. However, the Olympic classes are an expensive proposition where, to be remotely competitive, you need to be a full-time sailor. That mens lots more money, time and pressure and a lot less fun.
That is not to say the non-Olympic classes are easy pickings for ex-Olympians.  Tom Dodson and I have the experience of six Games to call on. We tied mid-fleet in the OK Dinghy class. The same is true in all the classes…. the level of racing is high.  First or last you would never want it any other way.
of racing It's great to see so many "real" people racing their boats and having fun doing it.  Without that, the top end of the sport, the Olympics, round the world racing, even the America's Cup would just wither, die and then blow away.
Yep – racing yachts is in a good space here in Auckland.