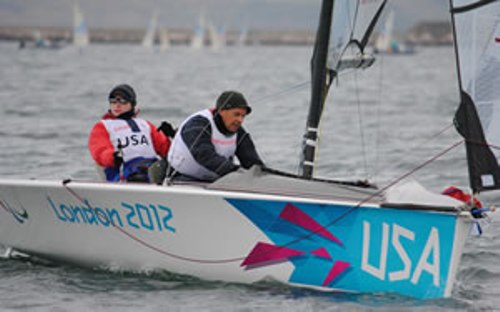 ROLEX YACHTSWOMAN OF THE YEAR – Jennifer French (St. Petersburg, Fla.), age 41, has been named the 2012 Rolex Yachtswoman of the Year for her silver-medal performance at the Paralympic Games in Weymouth and Portland, England. Sailing in the SKUD-18 (two-person keelboat) class, with crew JP Creignou, French secured her team's second-place finish in a fleet of 11 international teams. In the lead up to the Games, she and Creignou, both members of US Sailing Team Sperry Top-Sider, also sailed the SKUD-18 to a second in the IFDS World Championship in Florida; a third at both the French Olympic Sailing Week (Hyeres) and US Sailing's Rolex Miami OCR in Florida; and a fourth at Skandia Sail for Gold in England.
The selection panel noted that French was an exemplary representative of the USA at the Paralympic Games and throughout 2012 in the SKUD-18 class, which they described as extraordinary, well established and highly competitive.
"I'm extremely humbled and overwhelmed by the honor of being placed in the company of so many fantastic sailors who have had such an influence on me," said French. "It's a huge achievement, but I wouldn't be given this award if it weren't for JP and my husband, Tim, and a large team of special people in our lives who made it possible."
French, who also campaigned for the 2008 Paralympic Games in the Sonar class and finished fourth at the '08 Trials, explained that Creignou has campaigned twice before for the Paralympics and won the bronze medal as crew in the Sonar at the 2004 Games. He and French both moved to St. Petersburg in 2001 and met at a new members' reception at the St. Petersburg Yacht Club. They have been friends ever since, and when US Sailing coaches eventually encouraged the two to sail together, they weren't sure how well they could do on the racing front. "We practiced for two months and in 2010 finished second at the Rolex Miami OCR," said French. "That inspired us; we said, 'Wow, we have something here,' and sat down with our spouses to discuss launching the 2012 campaign."
French added: "This is also a huge step for disabled sailing and for the recognition of all those who have worked so hard over the years to make disabled sailing possible. Paralympic sailing has come so far; Nick Scandone (the Paralympic Gold Medalist who was named US Sailing's Rolex Yachtsman of the Year in 2008) was really the first person who broke ground for this, and JP and I are honored to follow in his footsteps."
Born in North Royalton, Ohio, French says the closest she got to water as a child was fishing with her grandfather on Lake Erie. She graduated from Bridgewater State College where, on a second date with her now husband Tim French, she was introduced to windsurfing and went on to do some cruising on a family boat. As a result of a snowboarding accident in 1998, French became a quadriplegic from a C6-7 incomplete spinal cord injury. Her story was featured in the documentary film "To Have Courage" and in the book Shattered Nerves.
French holds an MBA and is co-founder and executive director of Neurotech Network, a non-profit organization that focuses on education and advocacy of neurotechnology for people with impairments. In October, after writing an epilogue on the plane home from the Games, she released her new book On My Feet Again: My Journey Out of the Wheelchair Using Neurotechnology. It is the inspiring story of French refusing to accept that she would never get out of her wheelchair. Instead she became a participant in a clinical trial of a neuroprosthetic system that enables her to stand and move with her own muscles, stimulated by 24 surgically implanted electrodes. She helped advance the technology by working with the research team to test new features, push the limits of her strength and endurance and prove the viability of this new therapy for thousands of other potential recipients, including injured soldiers returning from war.