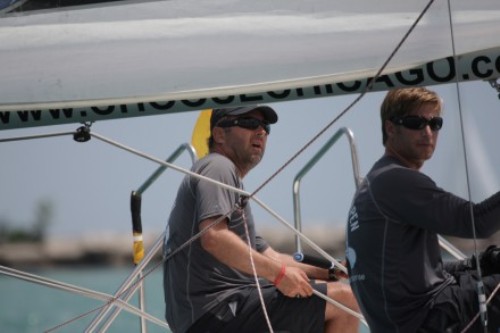 MATCH RACING – Bjorn Hansen finished the day unbeaten to top the qualifying table of the Chicago Match Cup, and will be joined by reigning Tour Champion Ian Williams, Pierre-Antoine Morvan and local favourite Taylor Canfield who narrowly squeezed into the Quarter Final after a count back between five teams.
Bjorn Hansen (SWE) Mekonomen Sailing Team once again earned his place at the top of the leaderboard, extending his fantastic early-season form into the Chicago Match Cup. Hansen beat Ian Williams (GBR) GAC Pindar on his way to top spot in the Qualifying Round, in a match-up that has already featured as a Final and a Semi-Final at previous regattas this season.
Hansen has managed to get the better of his opponent in all three of those battles and hopes it can continue through to the end of the season, saying: "We're doing well against Ian [Williams] recently head-to-head. In Korea and Sweden we got the wins and we've done really well to keep the momentum going from the last few regattas.
"We have spent a lot of time sailing these boats in Calpe, Spain and in Italy at the Trofeo Trombini, and feel very comfortable in them, they are fantastic to race. This maybe gives us a little advantage to those that are new to the boats, but the team is also sailing really well."
Other than the defeat to Hansen, a strong final day from Ian Williams saw his team win each of his three other matches to confirm their progression through to the Quarter Finals, avoiding tomorrow's Repechage, which will take 4 of the bottom 8 teams into the knockout rounds. The scores go back to zero so it's anyone's game again.
The runner-up result for the reigning Tour Champion was far from certain, even into the final match of the day, which was a re-sail from yesterday against Simone Ferrarese (ITA) Ferrarese Racing Team. Ferrarese locked out Williams at the signal boat at the start but Williams dug back from what looked like a lost match to not only challenge the Italian team, but lure them into a penalty on the final run of the three-lap course, just barely squeezing by to take the win on the finish line. MORE STORY