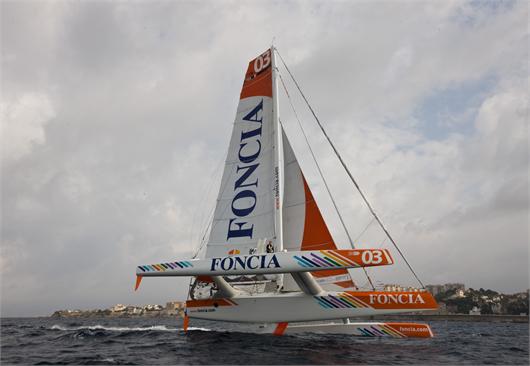 TEAM FONCIA – With all five of the MOD70 fleet safely finished into Marseille after the most mentally demanding stage of the MOD70 European Tour yet, Leg 4 from Cascais to Marseille, skippers and crew were keen to immediately catch up on their required rest.
After Race for Water and FONCIA finished second and third, Spindrift racing finished fourth and Groupe Edmond de Rothshcild fifth on Leg 4. The stage from the Atlantic into the Mediterranean proved the longest yet in terms of duration, with long periods becalmed, or close to it, especially for the later arrivals.
Third placed skipper Michel Desjoyeaux quipped this morning that in last night's blustery 30-35kt winds FONCIA made more distance in twelve hours than they did in the previous two days.
In terms of the overall standings for the MOD70 European Tour, with 79% of the maximum available points now allocated, FONCIA sees their lead over Spindrift racing increase by a net two points to 8pts.
The combined effect of winning the Cascais City Race series and then Leg 4 into Marseille this morning sees Musandam-Oman Sail up to third place overall – tied on points with Stève Ravussin's Race for Water.
Conversely two offshore fifth places in a row for Groupe Edmond de Rothschild finds Sébastien Josse's team now down to fifth on the leaderboard seven points off third. Spindrift racing's skipper Yann Guichard will have his ribs checked this afternoon after hurting them during last night. Success in the Marseille City Race series Friday and Saturday is essential to Spindrift racing. Guichard concluded: "The goal here is to get back to within four points of Foncia here, then whoever wins the last leg, to Genoa, wins the MOD70 European Tour."