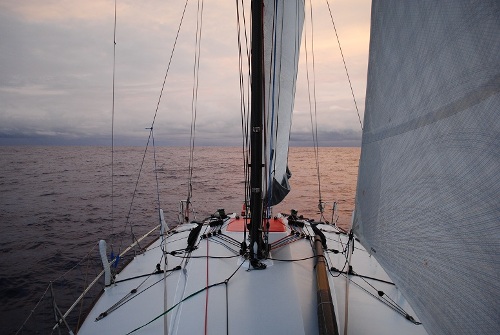 GLOBAL OCEAN RACE – Marco Nannini and Sergio Frattaruolo took Class40 Financial Crisis through the Global Ocean Race (GOR) Celox Sailing Scoring Gate in second place early on Monday morning and at 15:00 GMT the same afternoon, the South African team on Phesheya-Racing are just a handful of miles from crossing the virtual line off the coast of Brazil.
As the GOR fleet begin their 14th day at sea in Leg 4 from Punta del Este, Uruguay, to Charleston, USA, the race leaders, Conrad Colman and Scott Cavanough have continued to pick up speed averaging just over 11 knots on Monday afternoon as they take their Akilaria RC2 Cessna Citation towards the latitude of the mouth of the River Amazon and approach the Equator for the second time in the 30,000-mile circumnavigation.
Although Colman and Cavanough are polling the best speeds in the fleet, Nannini and Frattaruolo are pushing hard averaging above ten knots as they round the eastern corner of Brazil with Leggatt and Hutton-Squire on Phesheya-Racing and Budel and Van Vuuren on Sec. Hayai separated by 48 miles marking an eight mile gain by the Dutch team in the past 24 hours.
For the Italian-Slovak team on Financial Crisis, the first 2,200 miles of Leg 4 have been hard, but highly satisfactory. "We've proceeded in a near perfect straight line to this next corner where we'll all 'turn left' towards Charleston," explained Nannini on Monday morning. "The Celox Sailing Scoring Gate is placed on this turning point which marks the beginning of the next phase of the race and we're quite pleased to be crossing in second place after the boys on Cessna who unfortunately have slipped from our reach and are further ahead," he continues as Colman and Cavanough build a 269-mile lead – a 18 mile gain in 24 hours. "We've however succeeded in our intermediate goal of being first of the three first generation Akilarias in the race and kept the Dutch and South African teams behind us." At 15:00 GMT on Monday, Nannini and Frattaruolo held a lead of 107 miles over Phesheya-Racing and a 155-mile lead over Sec. Hayai. MORE STORY