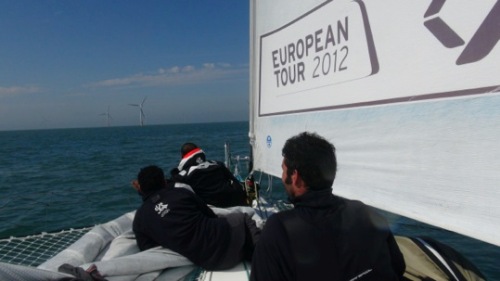 MOD70 EUROPEAN TOUR – It's all hands on deck aboard Musandam-Oman Sail as they battle to hold fourth place after continued attacks from Race for Water as the five boat fleet in Leg 1 of the MOD70 European Tour rounded Land's End Wednesday morning after a fast and furious dash down the English Channel.
French skipper Sidney Gavignet and his crew were pulling out all stops to extend a fragile lead on Race for Water with her all star crew led by Steve Ravussin, Franck Cammas and Thomas Coville after positions switched during the third night at sea.
"It was very difficult. We were neck and neck all through the night. The wind was up and then down and sometimes they were in front and sometimes at the back. Now they are just 500 metres behind us to windward. It has been really a very good race," said Mohsin Al Busaidi who was the first Arab to sail non-stop around the world.
Musandam-Oman Sail and her multi-national six man crew rounded England's Land's End at 0715 this morning and hit top gear again eking out faster speeds of 26.5 knots on Race for Water's 21.6 knots before starting the beat north to Dublin.
"We expect to battle with Race for Water all day. They are really good guys and we have to work hard every minute to stay with them and stay ahead of them. We have reduced our watches to one hour off one hour on. It is tough work," said navigator Jeff Cuzon a veteran of offshore racing and the French America's Cup challenge.
Race for Water was in front of Musandam-Oman Sail the first half of Tuesday night after passing through Dover Straights in light 10 knot winds and a favourable tide but the chase was on as the huge trimarans sprinted 250 miles down the English Channel in fresh North North Easterly winds building to 25 knots.
"It was a fast and exciting night. We hit speeds of up to 34 knots sailing close inshore in quite easy flat waters. We had to make quite a few sail changes but the crew was fast. We did well to overtake them by early this morning," said Cuzon
At 1030 this morning Musandam-Oman Sail was sailing upwind along the west coast of England.
"It will be a long haul up the Celtic Sea but we know the wind is going to die off from the top of the fleet and we hope to gain on the leaders," said Al Busaidi.
Musandam-Oman Sail is just 30 nautical miles behind the leaders Yann Guichard on Spindrift Racing and some 16 nautical miles within reach of third placed Seb Josse on Groupe Edmond de Rothschild. Michel Desjoyeaux on Foncia is a further few miles ahead.
"It's very close racing. We are a bit tired but everyone is well and looking forward to improving our position. It could be a long 17 hour battle to Dublin," said Al Busaidi who is no stranger to marathon endurance sessions.
He and fellow crew Fahad Al Hasni made history earlier this year in the Krys Ocean Race as the first Omanis to complete a transatlantic race on an Omani flagged yacht.