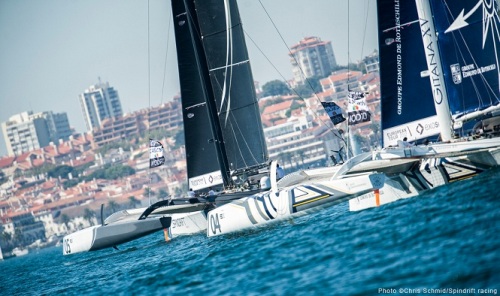 SPINDRIFT RACING – About half way in Leg 4 of the European Tour, things have taken a dramatic turn for Spindrift racing, becalmed most of yesterday in the Alboran Sea.
As Musandam Oman Sail thanks to clever gybes before and right after Gibraltar got away clean with Race for Water (Stève Ravussin) in pursuit, Yann Guichard and his 5 men crew struggled all day for a minimum gain off the hot Andalusian coast.
Caught in this quagmire of flat sea and no pressure is also Groupe Edmond de Rothschild (Sébastien Josse). With all hopes of taking line honors now gone, these two boats are on for a hot duel not only to avoid «  the wooden spoon » as the French put it, but to shorten the gap between overall provisionnal leader Foncia. Michel Desjoyeaux currently sails in 3rd place, and Guichard and crew envision at the moment finishing 4th in Marseille, which would leave some space for a grand finale in Marseille and Genoa.
All hope has not deserted Spindrift racing. Yann Guichard, with Figaro specialists Yann Eliès and Pascal Bidégorry know better than anyone that sail races are never written off until the gun. With Jacques Guichard, Jean-Baptiste Levaillant and Kévin Escoffier, they'll battle their way off the Balearic Islands to preserve this most important 4th place.
Final stage, tomorrow in Marseille.